Florence Restaurants
Florence restaurants come in several types - Trattoria, Osteria, Pizzeria, and so on.
Plus, with over 800 restaurants in the downtown Florence area, it can get confusing for a tourist ....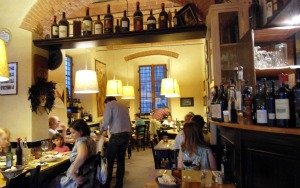 Don't fall into the trap of just walking into the first place you see!
Lots of restaurants in Florence – especially in the historic center  – don't offer the best value for money, and worse, don't serve the best food.
I have been to each and every one of the restaurants on these pages and my recommendations are authentic and honest.
Plus, I live here, so I also know where everyone else is going and the places that other locals are talking about.
When I keep hearing about a place, I go see (taste!) for myself and – if it's worth it – I write about it.
First, if you would like to know some basics for eating out in Florence, such as tipping, reserving, opening times and other useful information click below:
Basic information
Otherwise, just scroll down to read about the best restaurants in Florence for all types of eating out.
Florence Restaurants - the Best Places To Go
A Florence trattoria  is the most common type of restaurant in town.
Trattorias serve regional dishes at moderate prices and generally have a casual rustic atmosphere.
You may also notice lots of places called osteria that have this same rustic atmosphere.  
In fact, an osteria is similar to a trattoria so the two terms are pretty much interchangeable nowadays, although osterias might have a more limited menu focusing on a smaller selection of recipes. 
Go to this page to find an authentic Florence trattoria serving Tuscan specialties. 
Although most trattoria are generally not expensive, some are particularly inexpensive....read about some of the best cheap restaurants in Florence!
Pizza Places in Florence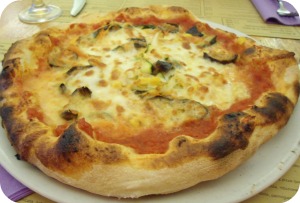 A Pizzeria specializes in pizza but usually also offers other dishes. 
Pizzerias generally also serve pasta, meat, salads, and sometimes fish dishes.
There are some things that are different about pizza in Italy so find out what you need to know and read about the best pizza places in Florence. 
Enoteca (Wineries)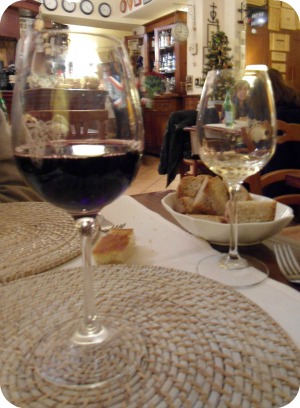 An Enoteca specializes in wines.
As you know, the Tuscan countryside all around Florence is famous worldwide for its grape vines and Chianti wine.
Needless to say, Florence has many enoteche...
This type of locale is basically a wine cellar with a small menu.
There aren't many dishes offered at enoteche but the recipes are usually specially chosen to accompany the wines.
Click here for the best enoteca in Florence.
Eating Fast in Florence - Where To Grab a Quick Bite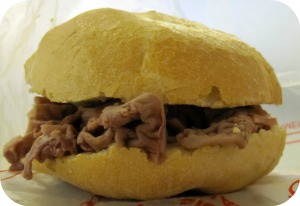 The different types of restaurants listed above are perfect if you want to sit down for a relaxing meal without worrying about time.
If, on the other hand, you just want to grab a quick bite for lunch and then continue with your exploring of Florence (a great idea actually!) there are plenty of places for that too.
And I don't mean only scrumptious sandwiches made with genuine Florentine cured meats and cheeses but also hot meals like Tuscan favorites such as ribollita and pappa al pomodoro.
Read about the best places to go for eating fast in Florence.
Most of fast eating spots are also quite inexpensive, so it's a win win situation really!
Florence Restaurants - More Specific Eateries
Are you looking for something more specific?
A restaurant with gluten-free dishes? Or vegan restaurants in Florence?  Foreign food? Fish?  
Read below about the best restaurants in Florence for these and other particular niches...
Gluten-free in Florence
Having a gluten-free diet doesn't have to mean that can't enjoy a delicious crusty pizza in Florence!
Some pizza places cater to people who can't eat gluten, and they work really hard to make sure there is no cross-contamination too.
Find out where to have a tasty gluten free pizza in Florence.  
And if you would like a wider choice than a pizzeria offers such as a place with a full menu including special pasta dishes or fish meals, read about popular gluten free restaurants in Florence.
Vegan and Vegetarian Restaurants in Florence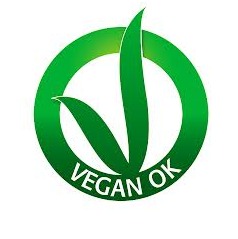 If you are a vegan or vegetarian then Florence is a great city for you.
Most restaurants in Florence have lots of meat-free dishes since Tuscan cuisine is so rich in beans and vegetables.
However, there are also some strictly vegan and vegetarian restaurants in Florence that are really popular.
And I mean popular in general - not only with people who have a vegan or vegetarian diet.
If you just like healthy. light and delicious food check out some of these vegan and vegetarian restaurants in Florence
Foreign Food in Florence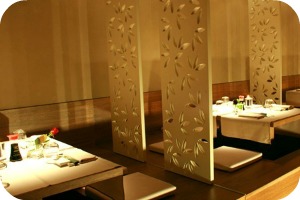 There are also quite a few restaurants in Florence that serve foreign food.
These foreign food places are actually much more popular with people who live in Florence than people who just come to visit.
Actually, that makes sense...visitors want to try the local fare but Florentines like to change every now and again.
If you're in the mood for Indian, Mexican, Japanese and other ethnic food have a look at some foreign food restaurants in Florence that are popular with locals.
You just might be the only tourist in the place!
Off The Beaten Path Restaurants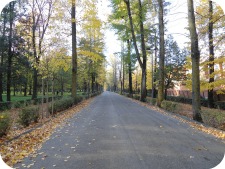 If you're the adventurous type, how about getting away from the busy downtown area and having a meal where you might be the only foreigner? 
'Off the beaten path' Florence restaurants are also a great opportunity to practice your Italian since most servers won't be used to having to speak English - a truly authentic Florentine meal in every sense!
Fish Restaurants in Florence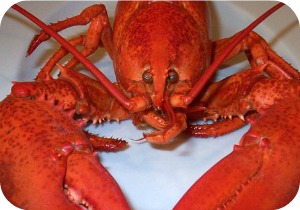 Not a meat lover?
Don't worry, there's no lack of Florence restaurants where you can enjoy a delicious fish dinner.
These range from the simple down-to-earth-spaghetti-with-clam-sauce type of locale to exclusive restaurants serving gourmet seafood dishes.
Read about some excellent fish restaurants in Florence.
---
Basic Facts About Eating Out in Florence
Tipping
All types of restaurants add a cover charge which runs from 1 to 3€. Service is included in this so you don't need to tip. Of course if you want to leave a little something it'll be appreciated, even just some change or a Euro or two (no one will be offended).
Lunch and Dinner times


Most Florence restaurants serve lunch from 1 to 3 p.m. and dinner from 7/7.30 onwards. For dinner most places don't fill up til after 8,30 so if you plan on having dinner around this time you might need to book.

Meals
A traditional meal has 3 courses, although not everyone actually has that big of a meal anymore. However, the waiter will usually ask you about 'antipasto' (appetizers), 'il primo' (the first course, usually a pasta or rice dish), and 'secondo' (second course, usually a meat or fish dish). Side dishes ('contorno') are never included with a meal so if you want a salad or vegetables you have to order that too a la carte.
Bread
A basket of bread is included in your cover charge. It'll have slices of Tuscan bread and might also have some bread sticks. Bread in Florence is not salted, and some people find it bland.

But Florence bread is really meant to accompany and complement the dish you eat it with

- the idea is that the bread shouldn't have more flavor than the food. Enjoy the fresh crusty Tuscan bread with your meat, fish, and vegetables - you'll see how much better the food tastes!
What's 'real' Italian food?
When my dad first visited me here in Florence I remember him saying

'I want a nice dish of spaghetti and meatballs!'

Sorry daddy! That is the kind of thing you find in Italian restaurants outside of Italy, not in Florence restaurants (the pasta dish and the meat dish are two separate things).
Another popular 'Italian dish' (in the U.S. anyway) is Fettuccini Alfredo and I've heard tourists asking for it here in Florence. Again, that's not an authentic local dish (way too rich and heavy – food in Italy is much lighter).
Some Florence restaurants have put dishes like these on the menu just to lure tourists in, but if you want an authentic Florence restaurant meal you should know that these dishes are not genuine local cuisine.
back
---
If you like the content of this page, please share!  Click the button below.