Exhibits in Florence Italy
Cultural exhibits in Florence are never lacking.
In addition to the city's wealth of world renowned museums and galleries, visitors may also choose to see some of the innovative temporary displays that Firenze has to offer.
Since there is such an abundance of renaissance and medieval pieces in the city's permanent collections, often exhibits focus on more contemporary art and modern pieces.
Alternatively, some exhibitions are meant to delve even deeper into the creative forces behind one significant renaissance master or even one particular artistic masterpiece.
Throughout the year there are always a vast array of exhibits in Florence ranging from the internationally acclaimed large-scale affair to much smaller and quiet niche exhibits that attract little fanfare.
Below you will find a selection of current exhibits that FWG has put together for you!
Picasso & Spanish Modernity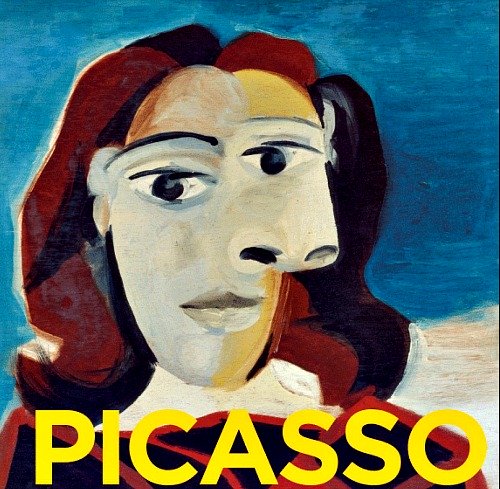 One of the most anticipated exhibits in Florence this year is Picasso & Spanish Modernity on now in the historic Palazzo Strozzi.
Everyone knows that Picasso was one of the artistic geniuses of the 20th century and of modern art in general.  
What this exhibition aims to show is the great artist's influence on and involvement with other Spanish artists.
A large selection of Picasso's work is juxtaposed with pieces by Joan Miró, Salvador Dalí, Juan Gris, Maria Blanchard and Julio González.
In total 90 works are on display including paintings, sculpture, sketches, engraving and film including rarely seen preparatory pieces for the masterpiece 'Guernica'. 
when: 20 September 2014 - 25 January 2015
where: Palazzo Strozzi located in piazza Strozzi (near Repubblica square)
opening times: 10 am - 8 pm, Thursdays open til 11 pm
entry: €10 full price (check official site below, reduced rates available for some)
Find out more or book your ticket at official site
Historical Florentine Jeweler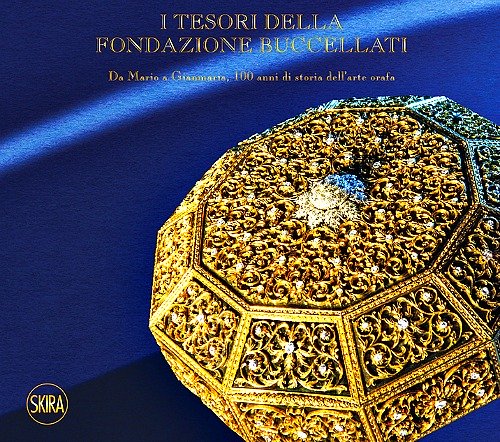 'Buccellati Treasures' (I Tesori della Fondazione Buccellati) is the name of the exhibit dedicated to the renowned family of jewellers and the art of goldsmithing.
Buccellati (who still have a shop on the Ponte Vecchio by the way) is one of the most famous names in jewellery worldwide and this exhibition pays homage to 100 years of production by the family.
Over 100 pieces of jewlery, gold and silver works are on display, all created by Mario and Gianmaria Buccellati who carry on the tradition and style of typical renaissance jewellery going back to the time of Benvenuto Cellini.
About Mario Buccellati Italian poet Gabriele d'Annunzio reportedly said "he is the prince of goldsmithers".  At this exhibit you will see why!

dates: from 2 December 2014 - 22 February 2015

times: 8:15 - 4:30
where: Pitti Palace at the Museo degli Argenti (Silverware Museum)
entry: included with ticket to museum €7
100 Year Anniversary of the Modern Art Museum
'Luci sul 900' , in English 'Spotlight on the Twentieth Century', is the name of the exhibit that celebrates the Modern Art Museum's 100th anniversary in Florence.
Opened in 1914, the 'Galleria d'Arte Moderna di Palazzo Pitti' has organized this exhibition of pieces coming from the gallery's twentieth century collection.
Dedicated to Italy's modern masters, there are pieces by Gino Severini of the futurist movement and De Chirico, an early surrealist.
Visitors will also have the opportunity to see works by artists from the Novecento period in Tuscany, a clique of creative souls who gained prominence in Florence in the 1920's for their innovative forward-thinking ideas.
dates:  from 20 October 2014 - 8 March 2015

where: Palazzo Pitti (piazza Pitti)
times: 8:30 am - 6:50 pm (closed Mondays)
cost: 13€
Animalia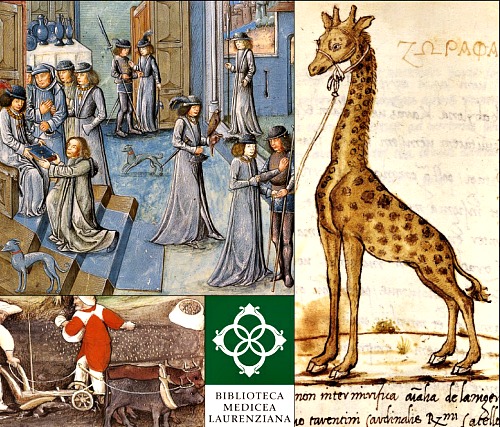 The Laurentian Library (designed by Michelangelo) is hosting one of the more original and interesting exhibits in Florence at the moment.
'Animalia' is a series of manuscripts showing the presence of animals in history and how veterinary medicine has progressed through the years.
The display shows creatures both real and imaginary and how man has used animals for myriad reasons: as work hands, for entertainment, as sacred objects, for food as well as for companionship.
where: Medici Laurentian Library, Piazza San Lorenzo 9
dates: from 14 September  2014 - 10 January 2015
opening hours: 9:30am – 1:30pm
admission: € 3 (€2.50 with the Basilica of San Lorenzo)
info: 055 210760
After 'Exhibits in Florence', You Might Also Like....
If you like the content of this page, please share!  Click the button below.