Vegetarian and Vegan Restaurants
in Florence Italy
Choosing vegetarian and vegan restaurants to recommend in Florence is easy for me.
No, I'm not a vegetarian myself, but some of my closest friends are, so as we say in Italian 'presto fatto'!
When I go out with them, it's vegetarian or nothing, so I'm really 'in the know' here.
Florence doesn't have a huge selection of vegetarian and vegan restaurants, but it does have some real gems.
Read on for the best picks in town....
Brac
where: via dei Vagellai, 18r (near p. Mentana)
phone: 055 09 44 877
open: from 12 pm onwards (closed Sunday evenings)
This is a fabulous place to eat vegetarian and vegan dishes in Florence.

Brac stands for 'brunch art café', in fact this restaurant is not
just a restaurant but is also a bookshop specializing in modern art publications.
Everything about Brac is unique and special.
The food comes first. Go no further in your search for delicious, yet light and healthy Italian food made for a vegetarian or vegan diet.

The owners of Brac however prefer not to classify their locale as 'vegetarian/vegan'. That category is too limiting.
According to the Brac philosophy, the food they prepare is about enjoying life to its fullest by appreciating and bringing out the best in such everyday necessities as nourishing the body (with food) and the mind (with art).
If all this sounds too 'artsy' for you, wait a second...let me tell you about some of the scrumptious dishes you can eat.
One of the top picks is ravioli with sun-dried tomatoes and ricotta cheese filling.
Another is tagliatelle (egg noodles) with a creamy lemon and zucchini sauce.
Some other examples include an artichoke platter with a pesto sauce made of almonds, celery and tomatoes; Basmati rice with mixed vegetables and sesame seeds; homemade lasagna with ricotta cheese and spinach filling topped with pecorino cheese; and Carasau flat bread (a Sardinian type of bread) covered with eggplant parmesan.
As you can probably tell from this list, the cuisine at Brac tends to be more delicate and refined.
Even 'heavy' dishes such as eggplant parmesan are prepared in a more modern way that brings out the flavor of the ingredients without over-doing it.
I recommend Brac's 'piatto unico' which is a combination platter with 3 choices from the menu. This selection allows you to try a few recipes and enjoy quite a generous portion of yummy food.
Oh, and the prices are reasonable too - about €12/14 per main course.
At this Florence vegetarian and vegan restaurant all pasta is homemade and all dishes are prepared fresh on the spot so you may have to wait a bit for your meal.
This shouldn't be a problem because at Brac the emphasis is on slowing down and relaxing in the moment.
The restaurant is as cozy as can be, with subdued lighting and candles spread around at night.
The shelves are full of art books and the rooms are decorated with exhibits of artists to be explored.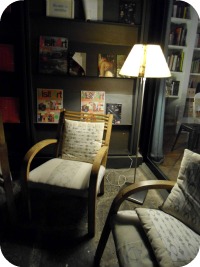 There's also a courtyard floored with wood planks with an ingenious 'ceiling', comfy love seats and sofas and coffee tables.
This is a nice spot to enjoy an aperitif (around 6 pm), eat a snack and chat with friends in the 'semi' open air.
On the artistic side, Brac holds presentations and talks with and about contemporary artists and art afficionados.
The bookshop is host to small exhibits of the work of modern artists, Italian and foreign, whose pieces can be seen in the locale.
See the website for more about current and past artists on display.
You MUST BOOK if you want to eat at Brac as this is one of Florence's most popular vegetarian and vegan restaurants.
The locale has a mere 8 tables which are 'sold out' pretty much every evening.
Alternatively, they also do lunch which you might not have to reserve since people come and go much more quickly at this time of day.
Brac also has a Sunday brunch from 12 - 4 (booking recommended). You'll find pancakes, muffins, French toast, and other familiar dishes yet all prepared with a modern touch, made lighter or with a special ingredient or topping.

This locale is very central although it's located in a hidden away spot and, on top of that, does very little to attract further attention to itself.
You might walk right by it - there's no sign outside and it has a very small glass door and dark lighting inside.
It's just off the Arno: the street along the river called 'Lungarno Gen. Diaz' has a small piazza on its left called 'piazza Mentana'. Via dei Vagellai is just off this piazza and the restaurant is right off the square too on the right if your back is to the Arno.
Do you want to relax, chill out, eat great food, be in a 'feel-good' environment, and nourish your soul?
Go to Brac.
Il Vegetariano
where: via delle Ruote, 30r (nearish piazza San Marco)
phone: 055 47 50 30
open: Tue - Fri 12:30 - 2:30 and 7:30 - 10:30 p.m.
Sat - Sun only dinner 7:30 - 10 .30 p.m. (closed Mondays)

Opened in 1981, Il Vegetariano is one of the oldest vegetarian and vegan restaurants in Florence.

This eatery is everything you would expect from a traditional vegetarian and vegan restaurant.
The atmosphere is rustic and informal and the food is the hearty home-cooking type.
Il Vegetariano doesn't try to be 'gourmet' or 'avant-garde' in any way. This is down-to-earth country style fare.
Also the service is down-to-earth - you help yourself!
You go to the cashier where the menu - which changes every day - is written out in colored chalk on an old-fashioned black board.
After you choose and pay for your food you move over to the counter where you wait to pick up your meal.
There's a separate area where the silverware and glasses are kept, and here too you help yourself. You take what you need and set your place at one of the wooden tables.
This 'cafeteria' system cuts down service costs and keeps prices low, although if it's crowded the whole process can take a while.

Tip: get your place setting and silverware first, and set yourself up at a table. Then, go and order and wait for your food.

Thanks to this system, this is one of the less expensive vegetarian and vegan restaurants in Florence. Prices run about €8 per dish and portions are generous.
As I said, the food is substantial and filling.
The menu might include dishes such as vegetarian lasagna
or eggplant parmesan, pies and tarts full to the brim with squash, leeks, zucchini, potatoes and other chunky vegetables, thick chowders and soups, or polenta (Italian corn meal) with
a vegan 'meat' sauce.
A very popular attraction is also the salad and veggie bar where you can make and mix your own personalized dish with a vast choice of fresh and steamed vegetables topped with the restaurant's special dressing.
Of course the restaurant also offers pasta dishes, although I find that these don't come off as well as they might.
Il Vegetariano is also extremely proud of its desserts which are considered the best out of all the vegetarian and vegan restaurants in Florence.
The dessert case is usually chock-a-block with both rustic apple crumble type sweets as well as devilishly rich Sacher torte type cakes, served with a dollop of whipped cream.
The menu is pretty much split down the middle between vegetarian and vegan dishes, leaning slightly more towards the former.
Il Vegetariano doesn't accept reservations, so it's best to go at the start of the opening hours to avoid crowds and get the best picks of the menu before they run out.
No credit cards accepted.
La Raccolta ('the Harvest')
where: via G. Leopardi, 2r (near piazza Beccaria - slightly 'off the beaten path')
phone: 055 24 79 068
open: Mon - Sat 12 - 3 (only lunch)

Of all the Florence vegetarian and vegan restaurants, this is the most die-hard.
Anybody who follows an 'alternative' diet will find something to eat in this vegetarian and vegan restaurant.
The food is all 100% organic and you can choose between vegetarian, vegan, macrobiotic, gluten-free and raw food dishes.
La Raccolta opened as an organic foods shop in 1985 and the restaurant was added in 2000.
When you go in it seems like just a shop, go through to the back and the restaurant is in a room in the rear.
It's largish with a very simple cheery atmosphere, albeit in a slightly old-fashioned 'country' style (in keeping with the rustic theme of the shop).
The cooking at La Raccolta is known for its creativity, not only in Florence but on a national level for vegetarian and vegan restaurants.
There are always original and inventive new recipes and sauces made with a vast variety of spices, seeds and herbs.
Some dishes you might find on the menu are:
'Veal' scallops made with seitan, vegetable or bean soufflèes and mousses, tofu, seitan, legume and tempeh entrees, whole wheat pasta with tomato and bell pepper sauce, Swiss chard sautéed with ceci beans, leek and apple stew with sunflower seeds, pasta with seitan meat sauce or broccoli and cashew pesto sauce, and vegetables served with a carrot or beet 'mayonnaise'.

If you want a dessert the creme brulée made with soy milk is a winner.
A lot of care and love clearly goes into the preparation of the meals at La Raccolta and the portions are also quite generous.
Dishes start at about €10. The best deal is probably the combination platter which is listed at the bottom of the menu.
La Raccolta is 'the place' for tasty uncompromising diet choices served in an extremely down-to-earth and relaxed
atmosphere.
You might feel like you've left renaissance Florence and entered the countryside!

Getting there by bus: from station take bus no. 14 (direction 'Ripa' or 'Girone') from the 'Valfonda' bus stop (leaving station on the pharmacy side, bus stop is on the left in a small square – you can see Burger King across the wide street in front).
Get off at 'via Leopardi' stop – restaurant right there.
---
If you like the content of this page, please share!  Click the button below.
go back to Homepage from vegetarian and vegan restaurants