Florence Card for Museums
Which Firenze Card is Best for You?
Not Many People Know that There Are 2 Options...
Having a Florence card will help you get the most out of your visit to a city that offers as much as Firenze.
The most known and used type of tourist pass is called the 'Firenze Card', which is a great deal.
But, there is also another option called 'Amici degli Uffizi' ('Friends of the Uffizi') which might suit you better!
Let's see what each offers....
The Popular 'Firenze Card'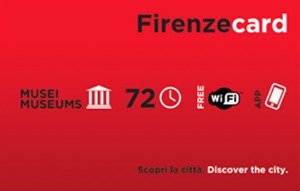 This Florence Card covers pretty much everything. 
It costs €72 and is valid for 72 hours.
With the card you get free entry to 67 museums, villas, gardens and churches - and this is the most important part - without waiting in line, you just saunter right in by-passing any people who are waiting.
The card also provides you with a 'kit' of useful city maps and info about places to visit.
The Less Known 'Amici degli Uffizi' Museum Pass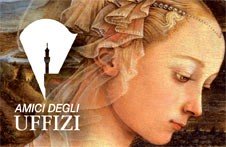 Note: as of January 2016 the 'Amici degli Uffizi' card has the following limited access to museums (text taken from official site):
Following the creation of the new museum cluster named "Gallerie degli Uffizi", starting from January 1, 2016, holders of our membership cards have free privileged access to the Uffizi Gallery (4 members admitted every 15 minutes, recommended entrance no. 2) as well as free entrance to all the Pitti Palace museums - the Palatine Gallery, the Silver Museum, the Porcelain Museum, the Costume Gallery, the Carriage Museum, the Gallery of Modern Art – as well as the Boboli and the Bardini Gardens

This Florence museum card is mainly for locals - in fact it is valid for one whole calendar year.  
But that doesn't mean that a visitor can't take advantage of this great option.
It costs €60, and, as I said, is good from January 1 til December 31.  There's also a youth option for people under 26 (€40) and a family card which is a real bargain at €100 for 2 adults and 2 children.
This Florence museum pass let's you skip the line at the Uffizi (the museum with the  longest lines).    
Pros & Cons of each Florence Museum Pass
Firenze Card
Pros:
Includes nearly all museums and monuments you are likely to want to see
children who are UE members, under 18, and in the same family unit get free entry
Cons:
only lasts for 3 days
you can only go into each location one time
children who are not UE members must have their own card at full price (unless you only want to visit State Owned museums - see below)
IMPORTANT: note however that anyone under 18 - UE or not - gets free entry to all State Owned Museums anyway, so you may not need a card for your kids depending on what you want to see!  A downloadable chart below lists these museums.
Amici degli Uffizi museum pass
Pros:
lasts one year
costs less than Firenze card
offers family option
you can go into the Uffizi as many times as you like
Cons:
Doesn't include as many places as the Firenze card
Places Included on Both Florence Cards
Note: for the moment the 'Amici degli Uffizi' pass ONLY gets you into the Uffizi, and is NO LONGER valid for these other museums.  We hope that this is a temporary decision but for now this policy is in force.
Both the 'Firenze Card' & the 'Amici degli Uffizi pass' include free entry and skip the line access to these main Florence museums and locations:
(These are among those that are free to under 18's)
Main Places only on the Firenze Card
The following popular locations are only included on the Firenze Card:
NOTE: The lists above only mention the major sites, both cards cover A LOT more, so see the official sites (links below) for the full lists of locations that each card allows you access to or download the chart above.
Some Things To Consider
Is the Firenze Card worth it?
Is €72 a lot of money for a three day pass?
If you only think about how much you will spend by paying for each museum on its own, then it might not add up as a savings.
But, if you consider the idea of flexibility and having greater options, I think it's worth it.  
Here are some thoughts based on my experience with tourists:
free skip-the-line entry to everything means that you go into places that you might not have gone to if you didn't have the Florence card, so you'll see more (eg have an hour free? Pop up to the top of the Palazzo Vecchio tower for gorgeous views over the city...it's included!).  You'll do and see more for sure!
people often say 'Why should I pay to go into Santa Croce? I only want to see Michelangelo's tomb and I would have to pay the whole ticket and wait in line...' or 'I saw the replica of David, why wait in the line and pay to go to the Accademia...?' - while I do understand this logic, I still say, 'What a shame!' - don't miss out on the great things Florence has to offer, getting a Firenze card will make you feel like Florence is yours for the seeing with no limits! You'll 'go for it' more!
Here's another example of how this Florence card may enrich your trip.  Nearly everyone who comes to Florence also goes to Fiesole, the nearby Etruscan town.  If you have a Firenze card, once you get to Fiesole you also have free entry to the outdoor archaeological site and museum, something you might not see if you didn't have free access!  
Who's the Amici degli Uffizi card for?
OK, so I explained the good things about the Firenze card, now what about the Amici degli Uffizi card?
This Florence card is perfect for those who are here for a longer stay.  It's valid for a year, but if you're here for a week, you'll still get your money's worth.
The museums included are those which are the most popular .  Entrance to the Uffizi is 'skip the line', so no waiting as this is the museum that usually has the longest line.
However for other museums you have to wait in line and then just pick up your 'free ticket' to enter.  The only other museum with very long lines is the Accademia, but you can avoid lines by getting there early in the morning just as it opens.
So, you get into all the major museums as many times as you like (ie instead of exhausting yourself seeing the whole Uffizi in one day, take it in sections....come and go at your leisure!)
Sure, if there's a museum not included on the card that you want to see you'll have to pay for it separately, but it'll probably be much less crowded and have no booking fee (as I said, the 'big ones' are on the Amici card).
This card is also perfect for those fortunate individuals who can get to Florence more than once a year.  See the Uffizi on one visit and Pitti Palace the next time...
This Florence museum card is also good for people who want to see the main art pieces and then just do other things in Florence, like lots of shopping or wine tasting and so on.
Where to buy your Florence card
72 Hour Firenze Card
You can get the Firenze Card online or at one of the sales points in town once you arrive.
Find info here at the official site for Firenze Card
If you purchase online, you get a voucher which you need to show - along with picture ID - to pick up the card at one of the pick up points.
NOTE:  the pick up points near the station and the Duomo are the busiest, opt for the airport desk if you arrive by plane or one of the other addresses on the list
If you choose to buy your Florence card in town, do so at one of the less crowded selling points (site has full list), such as at the Bargello Museum or the Info Point in via Cavour
One year Amici degli Uffizi Florence card
The Uffizi office recommends purchasing online.
However, you must have enough time for them to send you the card in the post (3 weeks) or - alternatively - they can send it to your hotel address in Florence.
Find the online order form at the official site for Amici degli Uffizi card
If you prefer, you can download the form from the site and purchase here in town by going to the Amici degli Uffizi office at Door no. 2 at the Uffizi Gallery Museum in piazza Signoria.
---
If you like the content of this page, please share!  Click the button below.
back to Homepage from Florence Card