Gluten Free Pizza in Florence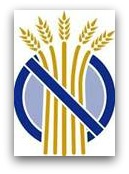 Gluten free pizza in Florence is not hard to find.
Pizza places have picked up on the fact that more and more people are changing to a gluten free diet, and now there are several good places to get a tasty pizza without gluten.
Here are some of the most popular pizza places in Florence for a gluten free meal.
At the end of the page you can read about a great gluten free bakery that makes pizza to take away but also breads, cakes and savory tarts!
Ciro's & Sons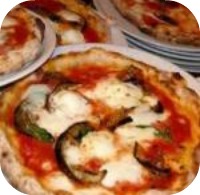 where: via del Giglio, 28r (near Medici chapel, piazza Madonna)
phone: 055 28 96 94
open: Mon 6 - 10:30 pm Tue - Sat 12 -3 and 6 - 10:30
closed Sundays
Ciro's is elegant for a pizza place.
It's in a historic building with 17th century frescoed walls, elaborate light fixtures and fancy table settings.
But the atmosphere is very friendly, welcoming and warm - as the name implies, Ciro's is a family-run restaurant and you can really tell.
Here you can get a very good gluten free pizza which you must book in advance (yes, you have to reserve a pizza!) so call or have your hotel call for you.
Ideally, call the day before. Otherwise, the same day but by 10:30 am for lunch and 4 pm for dinner.
Ciro's is also extremely convenient as it's just near the San Lorenzo market and the Florence train station.
It also has a patio for open air dining in good weather and an impressive wine cellar.
Apart from the pizza, the menu is extensive and the quality of food is high, from pasta to meat dishes (the chef has won an award from the Federation of Italian Chefs).
Prices are just slightly higher than in other pizza places in Florence: a gluten free pizza, drink, espresso and cover charge should run about €20.
Booking advised.
Club House
where: via de Ginori, 10r (street off piazza San Lorenzo)
phone: 055 21 14 27 open: every day 12 am - 12 pm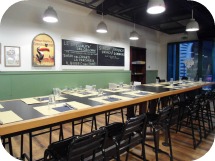 Club House is a bar-restaurant that wears several 'hats'.
The large middle room is a typical Florence pizza place with a casual style and long tables (the restaurant recommends booking your gluten free pizza to be 100% sure of getting one).
The menu also has many other gluten free dishes other than pizza, with American dishes too like burgers and brunch on Sundays.
Another area in Club House is more of a café-pastry shop with luscious desserts (with several American style cakes too) although most of these are not gluten free.
Then there's a back room that is more like a pub.
In fact, Club House is also a sports bar and shows all sorts of live sporting events on cable TV all year round on a big screen.
If there's a match on that you just can't miss - go here! This is when the locale really fills up...
Prices are reasonable (€9 -12 for pizzas).
La Luna
where: via Gioberti, 93r
phone: 055 66 38 10 cell. 348 91 47 315
open: every day for lunch (12:30) and dinner (7 pm)
La Luna is slightly off the regular visitor's route, but is not far
from downtown Florence.
It's a short walk up via Gioberti from piazza Beccaria (if you're not a walker, minibuses C2 and C3 reach their last stop in piazza Beccaria).
This is a real neighborhood Florence pizza place with gluten free pizza and a full gluten free menu (no need to book a g.f. pizza).
The restaurant is very casual and relaxed and has a lot of regular local customers so you really get the feeling that you're in a place where everyone knows each other (remember the TV show 'Cheers'?).
Besides the pizza, which is tasty, thin and crispy, La Luna specializes in fish dishes.
Booking a table is a good idea.
Prices are very reasonable, especially at lunch when they have great deals for under €10.
Starbene - Gluten Free Bakery
where: viale Spartaco Lavagnini, 2r
phone: 055 49 18 84
open: Mon - Fri 7:30 - 2 and 3:30 - 8
Saturdays 8 - 1 and 3 - 8 and Sundays 8 - 1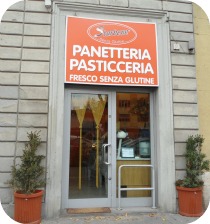 Starbene means 'living well', and is the name of a gluten free bakery where you can get bread, pizzas, cakes and pastries and different types of savory tarts and vegetable pies.
The bakery is not in the main downtown area but it is not as out of the way as it may seem on a map (I keep saying it, but the fact is nothing is really far in Florence!).
Let's take a very central square - piazza Indipendenza - to start from.
From this piazza, you go up via Santa Caterina d'Alessandria (all the cars coming down the street that runs along the piazza going towards the station are going in one direction - you have to go the opposite direction).
When you get to the end of Santa Caterina d'Alessandria, you cross the very wide avenue.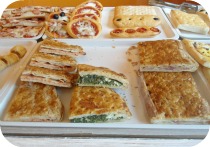 Go right and walk along this avenue (viale Lavagnini) and - Voila!
The bakery is a shop on the left after about two blocks (just before you get to piazza Libertà. 
Just a short walk and now you can stock up on lots of gluten free goodies!
The bakery is also a small g.f. grocery store so you can also buy things like pasta and cereal.
Starbene makes typical Florence breads like schiacciata and focaccia as well as savory tarts and vegetable pies.
You can also find bread sticks, crackers, all types of rolls, puff pastries with both sweet or savory filling, and plenty of cakes, cookies and rustic or rich pastries like fruit cakes or chocolate cream tarts.
And of course Starbene has gluten free pizza to take away with all sorts of different toppings.
Are you hungry yet?
Related pages:
---
If you like the content of this page, please share!  Click the button below.
back to FlorenceWebGuide Homepage from gluten free pizza