Florence Trattoria
Chianti Wine, Crusty Bruschetta, Home-made Pasta...Read about the Best Eateries in Town!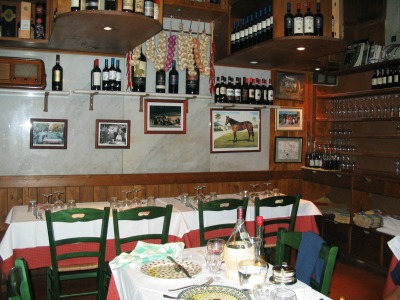 A Florence trattoria is where you can enjoy hearty authentic Tuscan food served with the best local wines.
'Trattoria' means an eatery with an informal atmosphere and usually a country-style decor with wood furniture, terra cotta floors and stone or brick walls.
The menu in a trattoria tends to be quite standard.
Selection does not change much from year-to-year and often it will be your server who tells you what dishes are available on any given day.
In fact, it's a good idea to ask what the house recommends and your server will probably give you the best advice about what to choose.
This is because daily specialties are made with the freshest seasonal products.
Read about the Florence trattoria that locals love and which serve the most genuine Tuscan dishes.
Trattoria in Main Downtown Area
Il Gozzi (open only for lunch)
where: piazza San Lorenzo, 8r  (extremely central)
tel: 055 28 19 41 
opening times: 11:30 - 3 only open for lunch
Closed on Sundays
No frills, old-fashioned, home cooking, super casual, that's Gozzi.
As central as can be, this Florence trattoria is right in the heart of the San Lorenzo market and around the corner from the Duomo.
Just 2 rooms full of busy tables with people coming and going for a quick lunch of local Florentine dishes at low prices.
Once you sit, you get served quickly, but there is usually a wait to get in so go early if possible.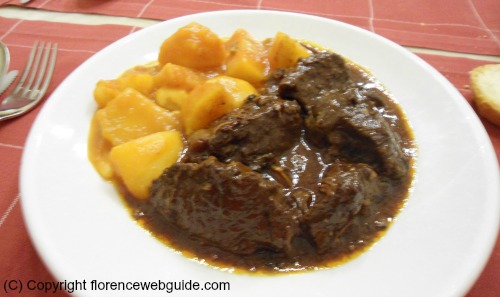 This is the type of place where the same people who work nearby go every day for lunch.
You'll be able to spot the tables with these regular  customers (often well-known journalists) since they give Gozzi a truly genuine flair with their animated discussion in local dialect.
You might not notice this trattoria since it's often hidden behind the market stall canopies (another reason there are more regular customers than tourists eating here!). 
The menu is short and to-the-point with generous portions (I recommend you ask the server for the dishes-of-the-day).
If you're downtown at lunchtime, this is the place to go!
Price range: €10 - 15
Antica Trattoria 'Da Tito' (since 1913)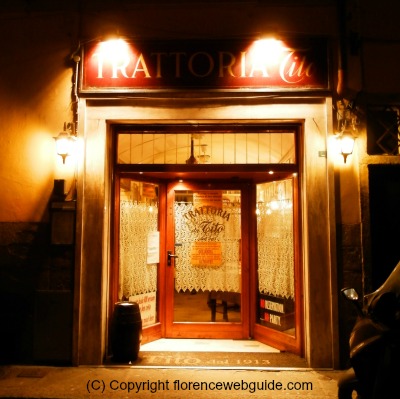 where: via San Gallo, 112r  (quite central)
tel: 055 47 24 75 (booking highly recommended)
opening times: lunch 12:30 - 3    dinner 7 - 11
Closed on Sundays
Tito prides itself on its Florentine-ity (is that a word...?).
The restaurant has signs all over saying things like 'we DO NOT serve cappuccino after meals' and 'NO well-done steak cooked here'.
This is done in an attempt to combat foreigners who want to corrupt authentic local traditions when it comes to food.
Needless to say, the menu offers all the local favorites: Florentine steak (cooked RARE), home made pasta, bean and vegetable soups, ribollita (in winter), bruschetta, and a myriad of other Tuscan recipes.
The particular thing about Tito is the atmosphere, another typical Florentine quality: it's LOUD.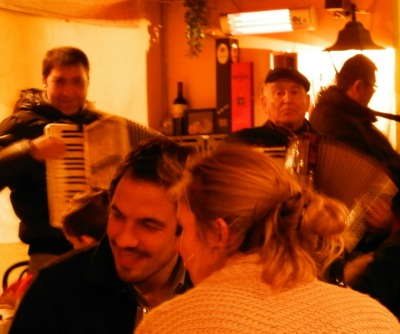 Tuscans are famous for their boisterous manner and here they do not hold back at all...
There may be live gypsy music or the waiters might start to don wigs and tell jokes (the later you go, the more rowdy it'll be).
Tito is definitely not the place for a quite romantic dinner!  
This Florence trattoria is very popular with locals and tourists and is always crowded and has a party-like atmosphere.
If you want a fun dinner in a casual atmosphere, try this Florence trattoria!
Price range: about €25 a head
Il Latini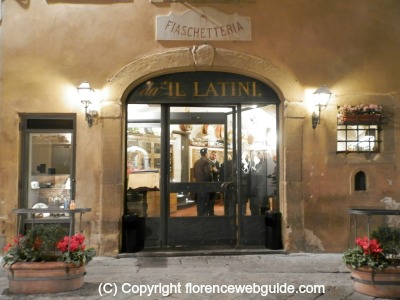 where: via dei Palchetti, 6r  (between piazza S.M.Novella and Arno river)
tel: 055 21 09 16 (booking highly recommended)
opening times: lunch 12:30 - 3    dinner 7:30 - 11
Closed on Mondays
This Florence trattoria is probably in every guide book about this city.
And yet, it is such an institution that it has to be mentioned again, just in case you have not heard of it!
Recently Bill Clinton was here in town for a mere 6 hours, but found the time to go here for the famous Florentine steak (their signature dish).
So is it all just hype??
Not really, the food is good and you can find all the local favorites.
However, because it has become soooo famous, it has a bit of a touristy feel to it (although tons of locals also go there).
So, if you're looking for a place with mostly locals, this is not the place to go.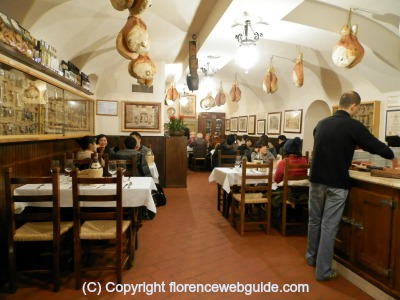 The atmosphere is casual and rustic, your typical Florence trattoria.  
The only difference is that the place is very big with several rooms, so although it's warm and friendly, it doesn't have a cozy feel.
Some popular dishes are the fagioli all'uccelletto (a bean dish), the famous steak, and assorted crostini (try polenta with funghi).
Price range: Il Latini is a bit more expensive than other trattoria (again, due to its fame), so you will spend about €35 a person or more.
Go to 'Latini' either to see if it lives up to its name/fame or just say 'I've been there'.
Trattoria Across the Arno River 
Trattoria dell'Orto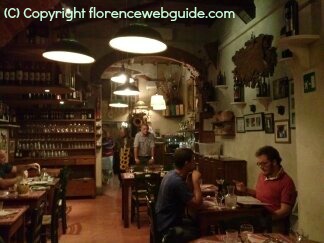 where: Via del Orto, 35a  (Oltrarno area)

phone: 055 22 30 94  cell 347 41 16 314
open for dinner: 7.15 pm to 11.30
for lunch from 12.15 to 2.30 pm
Closed on Tuesdays
Booking advised, especially on weekends
You can eat wonderful Tuscan dishes in this friendly Florence trattoria owned by Arturo, working since 1964.
The atmosphere is classic rustic: red brick, wood counters, vaulted ceilings, and bottles of wine everywhere.
The food is delicious and portions are very generous.
I really recommend the jumbo appetizer platter to begin (below left) which includes hot & cold starters such as pâté, stuffed vegetables, Tuscan cold cuts, mini-omelettes, sun-dried tomatoes, and more.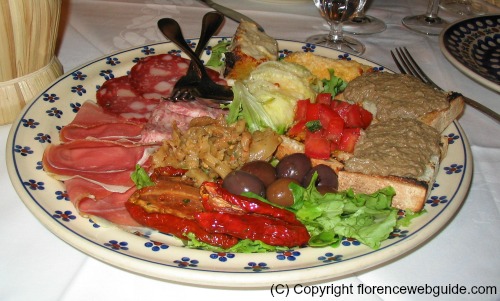 As a primo, the pappardelle (wide noodles) with cinghiale (wild boar) sauce is a winner, as is the risotto with zucchini and mozzarella.
Trattoria dell'Orto also has Florentine steak (seared on a grill, tender and juicy) of course, and tagliata (the sliced version of Florentine steak served on a bed of rucola with Parmesan cheese).
Some other top picks are the Florentine fried meat platter with chicken, rabbit and lots of veggies dipped in batter and fried to perfection (my favorite!) and the ossobuco, beef that's slow-sautéed (it comes sooo tender) and served in its own au-jus.
Trattoria dell'Orto also has a wine cellar with over 300 wines and a courtyard garden for open-air eating in good weather.
Price range: €30 a head
special deal for lunch: €10 for 1st and 2nd course, water, wine and coffee
Il Santo Bevitore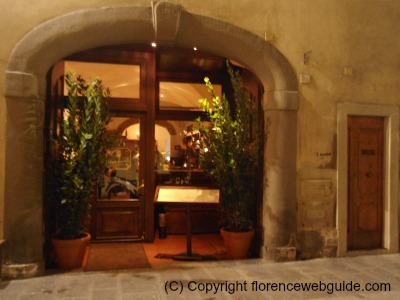 where: via Santo Spirito 64r (across Arno, just over the Ponte alla Carraia bridge)
tel: 055 21 12 64
opening times: every evening 7 - 12
lunch: every day except Sunday 12 - 3
Il Santo Bevitore is a special trattoria.
In fact, I hesitate to call it a trattoria at all because it is quite different to most Florence trattoria.
While it does have a rustic ambiance, it is more elegant and formal.
The restaurant is lit with very subdued lighting and there are candles everywhere (even in the bathroom!)
There are small sculptures on pedestals found throughout the locale.
About the food, the menu is inspired by Tuscan and Florentine traditions but the dishes are given a new twist.
Instead of a classic pasta with a beef meat sauce you might find a sauce prepared with game meats (hunting is very widespread in the Tuscan countryside).
The last time I was at Il Santo Bevitore, for example, I had a meat sauce made with Colombaccio - a type of wild pigeon - which was further spiced up with cocoa bean slivers.
(If you're scrunching up your nose thinking 'cocoa? in pasta??' just remember that cocoa was initially used in savory dishes in its countries of origin in South America....).
This dish was a winner I can tell you!
This Florence trattoria also presents its food beautifully, with an artistic touch.
To get an idea, take a look at this mousse made with leeks in the pic above left.  The sauce on the bottom is made with radicchio - a Tuscan red lettuce -  and the flan is garnished with a Parmesan leaf with almonds.
It tasted even better than it looks!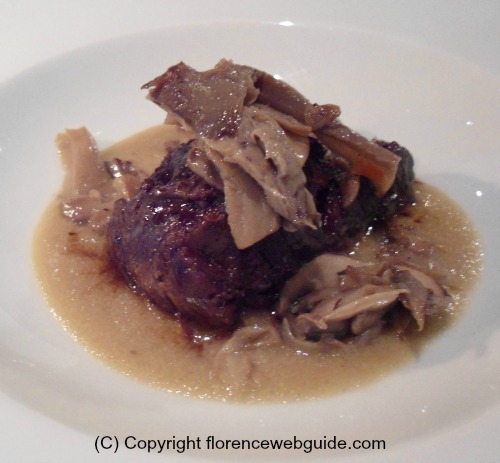 Portions aren't large here - the scales are definitely tipped on the side of quality over quantity.
See pic left for an example of a meat entree.
This small piece of braised beef is extremely tender and is served with a creamy sauce of semolina grain and mushrooms.
Il Santo Bevitore is one of Florence's most loved restaurants and is extremely popular with locals as well as tourists.
Booking is recommended and is a must on weekends.
Prices: a 2 course dinner with wine and dessert starts at about €40-45.
Important tip: One drawback to this locale is that it can get very noisy when it fills up.  When you book, ask to be seated NOT in the large main room, but in the small side room on the left or the small room in the back. Alternatively, go on a slower night (Mon - Wed) and get there early (7ish) and ask to be seated in one of these smaller rooms.
The best seat - if there are just two of you - is a little nook in the restaurant window in the small room on the left.  If you can get this table for two you'll have the coziest spot in the house!
Hosteria del Bricco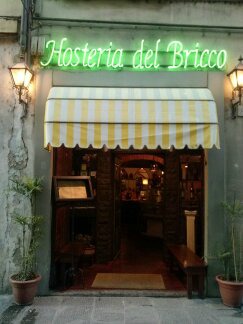 where: via San Niccolò 8r  (across Arno near piazza Poggi)
tel: 055 23 45 037
opening times: 6 pm onwards
Closed on Mondays
You know that place with really delicious authentic food and good prices that everyone hopes to find?
This is it!
If you see a lot of non-Italians eating here, don't be put off and think it's a 'tourist trap' because it's not, it's just that people have figured out how good the food here is...
The menu is full of the most typical local dishes, all cooked by the owner Daniele's mother.
Hosteria del Bricco has even won a prize for the best Ribollita in Florence! Considering that this is the city's most popular regional dish, this is no small feat I can tell you.
This Florence trattoria has a fun appetizer of home-made toppings served with lots of crusty bread so you can prepare your own 'crostini'.
The meat dishes are Bricco's forte, with stewed beef ('peposo' or 'ossobuco') or stuffed poultry - all very tender and savory.
If you are a wine lover, there is also an extensive wine list, but if you are not a connoisseur just get the house wine which is excellent.
Bricco is a family run restaurant where you can eat high-quality Tuscan fare in a warm and friendly atmosphere at extremely reasonable prices.
Price range: about €20 per person for basic meal
---
There are some inexpensive Florence trattoria on this page:
You might also be interested in:
If you like the content of this page, please share!  Click the button below.
to FlorenceWebGuide Homepage from Florence Trattoria