Foreign Food in Florence
The Best Places for Ethnic Cuisine
Foreign food in Florence is quite popular.
Although the city boasts an overwhelming number of foreign visitors each year, actually it is the local population who are the biggest patrons of restaurants serving ethnic cuisine in Florence.
As delicious as Italian food is, sometimes even locals want to try new dishes and exotic recipes.
Florence has oriental (Thai, Japanese, Chinese), Mexican, Greek, Brazilian, Spanish, Indian and Argentinian restaurants, among others.
Here are my recommendations for the best foreign food in Florence:
Tijuana - Mexican food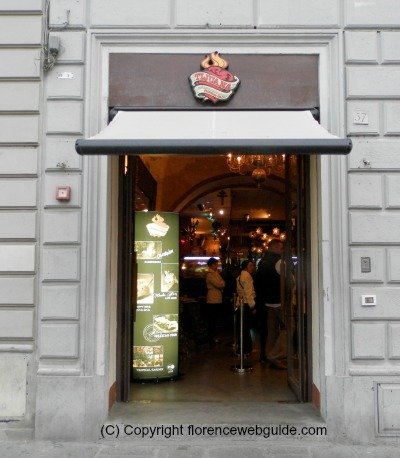 This is my favorite foreign food restaurant in all Florence.
Both the food and the frozen drinks can't be beat!
Portions are big and the menu has both all the popular classics (enchiladas, burritos, fajitas) as well as lesser known authentic Mexican recipes to try out.
The frozen drinks are marvellous, pina coladas, daiquiris, margheritas, all gorgeously presented and delicious.
There are two Tijuana restaurants in town, the original near the Bargello museum, and a newer one near Porta al Prato (see below).  
The original is more rustic and dark inside and is cozier.
The new Tijuana is much bigger but still with a great Latino atmosphere.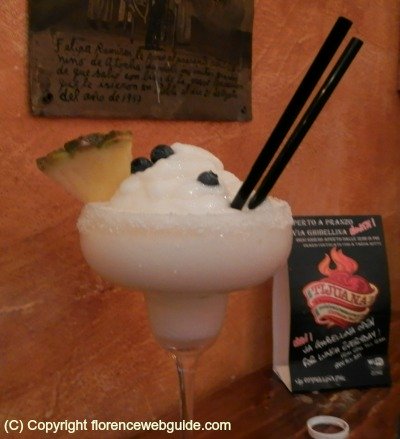 Both restaurants are decorated with all original pieces coming from Mexico.
When you walk in you feel like you've left Florence for, well, Tijuana!
This is important: Tijuana can get very crowded and loud.
Especially on weekends and later in the evenings the place can get downright noisy.
There's often live music (especially in via Il Prato) or some other sort of entertainment.
If you want to eat great Mexican food but do not like a rowdy atmosphere, you should go there early, at around 7 pm.
Lastly, Tijuana has a happy hour from 7 - 8 pm every day.
Original Tijuana:
where: via Ghibellina, 156r, tel. 055 23 41 330 open: from 12 pm onwards every day
New Tijuana:
where: via Il Prato, 57r  tel: 055 28 72 47  open: from 6 pm onwards every day
Niwa - Thai and Japanese cuisine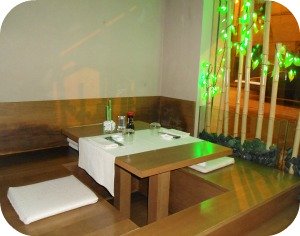 where: via del Ponte alle Mosse 16r (right near Porta al Prato)
phone: 055 35 57 36
opening times: Wed - Sun lunch 12 - 3 and dinner 7 - 12 pm  Mon - Tue only open for dinner
Enter into Niwa and you are overcome by a feeling of calm and relaxation.
This Thai-Japanese combination restaurant manages to create an  atmosphere that is so peaceful and pleasant you really feel like you've been transported into an oriental location.
Niwa means 'garden' in Japanese and that is the inspiration for this foreign food restaurant in Florence.
You can sit low on the floor in box tables with cushions (see pic above) surrounded by bamboo stems and leaf decorated sliding panels dividing the tables.
The food is extremely flavorful yet light.  
You don't leave this restaurant feeling stuffed - portions are not big and the food is delicately cooked.
I recommend the mixed Thai appetizer which is terrific (see pic below).
You get 4 things:
a spring roll, a shrimp tart, a satay skewer, and a chicken nugget covered in a crisp banana leaf all accompanied by 3 delicious sauces (a red spicy sauce, a sweet-and-sour, and a fantastic peanut curry sauce).
As a main course the sushi selection is outstanding and gorgeously presented (see pic below) and the tempura is as crispy and light as can be.
As for Thai dishes the beef with coconut curry sauce is one of my favorites.  Like much Thai food, it's slightly sweet so you have to like this sweet-savory combination.
For dessert, the Niwa cakes (you get two) which come in a small cup shape with a chocolate sponge cake exterior and green-tea cream filling are great!
Niwa is a higher-scale oriental restaurant, which you will see in the finer details in the food presentation and the small touches in the decor.
For example, before you even order, they give you - on the house - a very nice pre-appetizer of steamed beans still in the pod which are very tasty.
Prices: about €30 per person for a regular meal (appetizer, main course and drink).  There's also a taster menu for €40 a person which lets you try the most popular Thai and Japanese dishes.
Banki Ramen - a Japanese Noodle House
where: via dei Banchi 14r (just off piazza Santa Maria Novella)
opening times: Tue – Fri dinner 7 – 10 pm
lunch only on Saturdays 12:30 – 2:30
closed Sun – Mon
Banki Ramen is an anomaly as a foreign food restaurant in Florence and is a real insider's tip for where to eat some delicious genuine ethnic food.
Warning: don't be put off by the unimpressive exterior of the restaurant – the food is great!
By day, this location is a typical Italian coffee shop selling pastries and cappuccino.
By night, the coffee shop doors close and the side entrance opens….
The place turns into a totally authentic Japanese noodle house (I know it's the real thing because over half the clientele are Japanese and they form long lines to get in).
The menu basically just serves a wide variety of Ramen, Japanese noodles in very tasty broth.  
A typical Ramen dish is meat stock with noodles, pork slices, hard boiled egg, cabbage, and dried seaweed.
There are also some non-soup dishes such as grilled wantons (Gyoza) or 'fried' spaghetti with meat or vegetables (Yaki Soba).
The noodles are made fresh by hand every day by the Japanese chefs (so when they run out, that's it – you have to come back the next day, a good reason to get there early….).
The restaurant gives you chopsticks and a wooden soup spoon (more like a ladle) used for eating Ramen (see pic below right).
Eating with these Japanese utensils adds to the authenticity of the meal, although it might be a struggle to scoop up your noodles with the chopsticks and get them into your mouth (don't worry, the restaurant has a sign saying that slurping is allowed, indeed, is obligatory!)
The ambiance is extremely casual and simple – you just eat and leave as there is usually a line of people waiting to get in (service is extremely fast too).
The restaurant has two rooms, one which is the coffee shop by day and this section is a bit fancier, although you'll be eating your Japanese noodles in a room with an espresso machine and a counter with Italian pastries behind the glass….
The other room (where the entrance is) is very basic and spartan (see pic above left).
The soup and noodles are delicious and very filling and the pork slices in the broth in particular are really tasty and tender.
Prices: inexpensive about €15 per person
At Banki Ramen there's no reserving so you should get there early to avoid waiting in the line (although it does move quite fast).
A unique foreign food restaurant in Florence indeed!
Zafferano - Indian Restaurant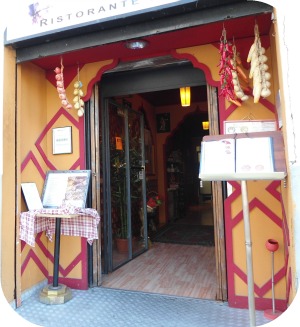 where: via Il Prato, 9r (nearish the station)
phone: 055 28 55 08
opening times: 12:30 - 3:00 and 7 - 11
This Indian restaurant opened in 2010 and has quickly become a foreign food favorite in Florence.
First of all, the food is great.
They make really good meat patties, have a full Tandoori menu, and make a delicious yet light Zafferano (curry) sauce that goes great on chicken or lamb.
For non-meat eaters, there's also an extensive vegetarian menu.
Apart from the tasty food, the owner and staff are friendly and helpful, explaining all about the various Indian foods and explaining what goes best with what.
The location is quite central, just outside the main downtown area and within walking distance to the station.
Prices: an average meal alla carte goes for about €20-25.
They also offer a fixed-menu for €18 at dinner and €8 for lunch (from noon to 3 pm) which offers generous portions as well.
7 Secoli - Argentinian Restaurant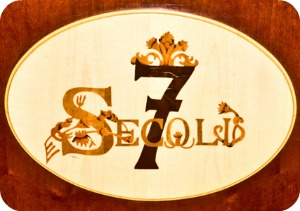 where: via Ghibellina, 140r (central, near 'Teatro Verdi' theater)
phone: 055 24 52 05
opening times: everyday from 6 p.m. onwards
'7 Secoli' has a woodsy interior with a long American style bar with stools, lots of booths for dining and a warm friendly atmosphere. 

This foreign food restaurant in Florence is a popular hang-out for local celebrities and especially soccer players (check out their website for pics). 

When matches are on you can watch them here on the big screen.

Appetizers include the classic 'empanadas' (meat patties) and the menu offers, of course, lots of meat and steak dishes with the world-renowned Argentinean meat all imported fresh from Argentina. 

One part of the menu is dedicated to offal (organ meats), another Argentinean classic.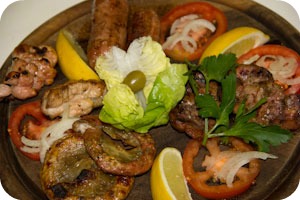 Meats are served with the Argentinean parsley sauce, 'chimichurri'.
7 Secoli might remind you of an American steak house more than a foreign food restaurant, and not only in its décor. 
You can get burgers, hot dogs, French fries, and corn-on-the-cob.
The desserts menu is especially tempting. 
Don't miss the pudding with caramel sauce and cream topping – it's just fabulous. 
Also ice cream, milk shakes with whiskey, banana splits and crepes.
prices: €30 - 35 range
---
related pages you might be interested in:
If you like the content of this page, please share!  Click the button below.
back to FlorenceWebGuide Homepage from Foreign Food