Cheap Restaurants in Florence
Find Good Food at Good Prices with
this Florence Restaurant Guide!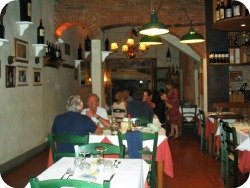 Cheap restaurants in Florence are where you can eat fresh Tuscan cuisine without spending much at all.
Don't think that 'low-budget' means low quality though!
So what's the trick?
Most of these places keep costs down by having a simple menu with the most popular dishes - a guarantee that nothing will be left over.
And also by sheer numbers: they may have low profit margins but the long lines of returning customers certainly make up for it.
Another good thing about these lower priced Florence restaurants is the friendly atmosphere that you'll find.
These are locales that are hugely popular with workers in Florence, so whether at lunch time or for dinner you're likely to find groups of boisterous friends who really add a touch of neighborhood flavor.
These are my top insider picks for a great meal at small prices:
Sabatino - cheap restaurants in Florence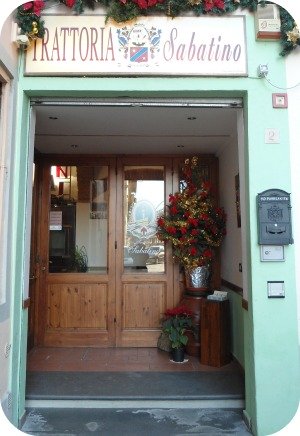 where: via Pisana, 2r (near the San Frediano arch)
phone: 055 22 59 55
opening times: Monday to Friday 12-2:30 for lunch and 7 - 10 p.m. for dinner
Closed on weekends
Of all the cheap restaurants in Florence, you won't find one that'll give you a more local authentic eating experience than this one.
Sabatino is probably what restaurants were like before the whole idea of restaurants became fashionable.  
It's probably better to call Sabatino an 'eatery'.
The menu has a handful of popular traditional dishes such as pasta with tomato or meat sauce, tortellini, hearty soups and roasted meats.
The food is prepared ahead of time so it's served extremely quickly by very laid-back waiters wearing regular clothes plus an apron - there is absolutely nothing formal at all in this restaurant.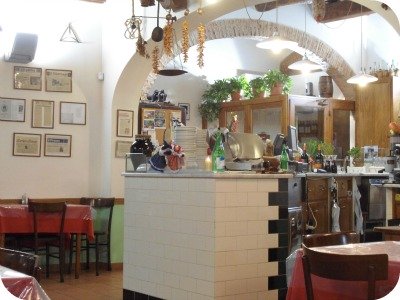 The feeling here is similar to having a meal at a countryside village: one big cavernous room with lots of tables covered with a plastic table cloth and very simple table settings.
You sit where there's room so it could be with other diners who you don't know (Sabatino only takes bookings from large groups).
All this simpleness makes for simple prices too: appetizers and pasta dishes or soups go for about €4, main dishes about €5.
Insider tip!  You can also order a 'mini' pasta or soup dish for a reduced price, about €2,50.  This is about 2/3 of a full portion and is a good idea if you want to also have a meat dish and a dessert but don't want to get too full.
This option is not written on the menu so just ask the waiter.
There's is no English menu at Sabatino (I told you it was an authentic place!) but some of the staff can help you understand the menu if you don't know Italian.
Here are a couple of pictures of a soup and meat dish (peposo, like a peppery beef stew popular in Florence).
Getting there: this restaurant is tucked away in a corner where via Pisana meets the San Frediano arch.  It's still considered pretty much the downtown area and can easily be walked to.
From Borgo San Frediano (on the south side of the Arno river just over the Vespucci bridge) you go through the arch and Sabatino is in the square on the right.
This area is very characteristic and has an air of an older untainted Florence, much less commercialized.
Trattoria da Giorgio - cheap restaurants in Florence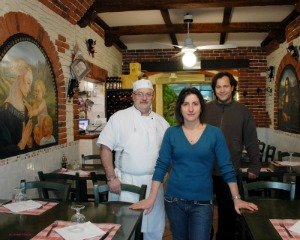 where: via Palazzuolo, 100r (near the station)
phone: 055 28 43 02
opening times: everyday 12-2:30 for lunch and 6 - 10 p.m. for dinner
Closed on Sundays
I was first introduced to Giorgio's by a Florentine friend when I came here in 1990 - it's been around forever (since 1974).
This is how it works: you get a first course, second course, and side dish, water, wine, and bread all for the set price of €13 (€12 at lunchtime), plus a €1 cover charge.
The menu is extensive and you can choose any pasta or rice dish and meat dish or other main course.
The atmosphere is very friendly and rowdy (it can get quite noisy at times!).
They also offer a set-price menu including the famous Florentine steak ('bistecca fiorentina') at the slightly higher cost of €25. 

This Florence restaurant is popular for lots of reasons: the food is good, it's a friendly genuine atmosphere, they give decent-sized portions, the food is fresh (the place is always packed so nothing ever goes bad!) and the menu offers lots of choice.
The only downsides are that you may have to wait a bit for a table (they don't take reservations), it can get very loud inside, and the neighborhood - being around the station - might seem a bit seedy at night.

In the summer you can eat outside (surcharge €1). 
La Trattoria il Contadino - cheap restaurants in Florence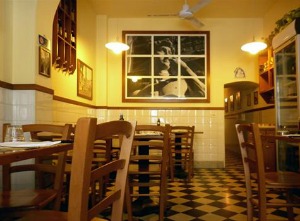 where: Via Palazzuolo, 71r (near the station)

phone: 055 23 82 673
opening times: open all day from Monday to Friday 12 - 9:40 p.m. 
Closed on weekends
Il Contadino is another affordable Florence restaurant that works similarly to Giorgio's and is right across the street. 
There's a fixed price for a first and second course, and side dish. Lunch goes for €10.50 (€11 if you want wine) and dinner €12 (€13 with wine).
The staff are friendly and the menu offers lots of choice of Tuscan dishes and typical Italian food.
The decor is basic, clean and simple.
The food is good (you'll see lots of locals eating here), portions generous and your food is generally served quickly.
This inexpensive Florentine restaurant offers great value , and its all-day opening hours make it quite popular.
More Florence restaurants:
---
If you like the content of this page, please share!  Click the button below.
back to FlorenceWebGuide Homepage from Cheap Restaurants in Florence