Hotel Lungarno Florence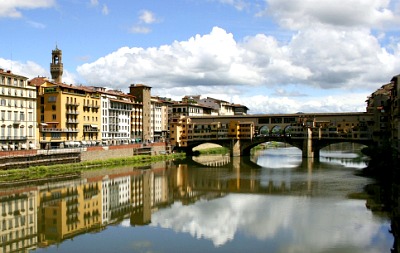 A hotel on the lungarno in Florence makes for a very special sojourn.  
But what does 'lungarno' mean?
The Arno is the river that runs through the middle of the city, and the streets on each bank of the river are called 'lungarno' (literally 'along the Arno').  So a hotel lungarno is accommodation that is just off the river on one of these streets.
Hotels on the lungarno offer great views of the river and its elegant cross bridges, the most famous being the Ponte Vecchio of course.  
Lodging along the Arno makes for a romantic hotel experience in Florence (an evening stroll along the river with the lights relecting on the water is a must!).
One thing about being along the river though...you might find some unwanted guests in your room.....mosquitoes!  Not to be discouraged though, with these Florence hotel tips and info you'll be fine.
Read below to see the best options for a hotel lungarno Florence, with choices for all price ranges.
4 ★★★★ 
Hotels on the Lungarno in Florence
Hotel Principe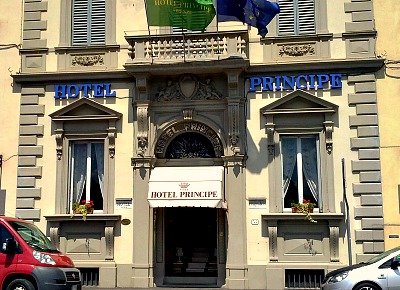 Friendliness, warmth and professionality make for a winning combination at this cozy boutique hotel along the Arno run by the same family since 1860.
location: Lungarno A. Vespucci no. 34.   The romance of being along the river without being overwhelmed by too much hustle-and-bustle, Hotel Principe is just a 7 minute walk to the Ponte Vecchio and 15 minutes to the Duomo.
about: highly recommended, this quaint classically designed hotel is a throwback to another era when accommodating guests was considered an art and a privilege. Rich burgundy and royal blue tapestries cover the traditiional furnishings of this elegant villa cum guest lodge.
plus: on premises parking free of charge, has a lovely quiet garden, views of all major monuments starting from 2nd floor rooms, offers roof-top terrace vista - a 4 star hotel with 3 star prices!
visit official site of Hotel Principe
---
Hotel Lungarno
This exclusive hotel - a small but luxurious boutique hotel owned by the Salvatore Ferragamo company, is considered the crème de la crème of hotels along the Arno river.
location: Borgo San Jacopo no. 14.  You can't get closer to the Ponte Vecchio than this, yet there's the added bonus of being on the south side of city, the quainter artisan quarter with great restaurants.
about: this extremely central location offers spectacular views of the Ponte Vecchio, Duomo and Palazzo Vecchio on one side and Palazzo Pitti on the other.  Rooms with terraces feel like you're floating alongside the major city monuments.  Hotel has a champagne lounge with an exclusive selection of bubbly, spacious rooms decorated in elegant old-world style, mouth-watering gourmet breakfast, a gym, and lounge bars, all wrapped in chic decor worthy of the Ferragamo name.
note: ask for a room on Arno side, street side of building could get noisy disturbing sleep
What makes it special: classic flair and postcard worthy views of Ponte Vecchio, offers a suite in a Medieval tower ('suite torre'), Salvatore Ferragamo toiletries and collaboration with Ferragamo boutique in via Tornabuoni, also an art gallery with significant pieces from the 1900's.
see Internet rates and read reviews of Hotel Lungarno
---
Hotel Berchielli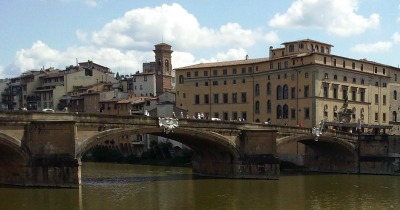 A historical Florentine hotel, Berchielli has been accommodating visitors since 1890 and has even had the honor of hosting the great Pablo Picasso who lodged here in 1949.
location: Lungarno Acciaiuoli no. 14.  Located between Florence's two most famous and historic bridges, the Ponte Vecchio and Ponte Santa Trinità, just minutes walk to most all city sights.
about: marble and stained-glass abound in this bustling hotel which has a very international clientele, Berchielli offers contemporary luxury whilst conserving its centuries old heritage.  For decades the hotel boasted its own collection of haute-couture figurines, some of which are still on display making Berchielli the ideal choice for fashionistas and top designer connoisseurs.  
plus: lovely roof terrace with Arno view, very friendly and professional staff abound, unbeatable breakfast selection.
see Internet rates for Hotel Berchielli
 3 ★★★ 
Hotels on the Lungarno in Florence
Hotel Consigli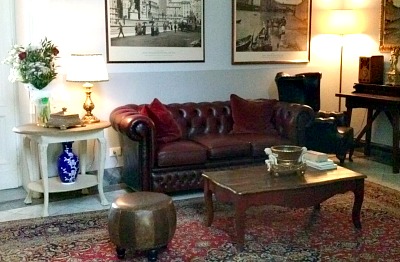 This charming Florence hotel on the lungarno is situated in an 18th century palazzo in one of the quietest parts of the lungarno.  Feeling more like a B&B than a hotel, if you're looking for cozy, this is it!
location: Lungarno Vespucci no. 50, right next to the American consulate in a very elegant aristocratic area. Extremely quiet as this is a residents-only traffic zone, a big plus! Also, very close to the Cascine park - great for joggers - and fast access to highways from here, great for day trips.
about: conveniently close to downtown and all the sights but also has an 'off the beaten path' feel to it as this area is close to the end of the lungarno strip.  Atmosphere is warm and unpretentious, has a breakfast room with frescoed vaulted ceilings, and lovely roof top terrace with views along the Arno.
plus: all day parking available for only €20
see what past guests have to say
go to official site of Hotel Consigli
---
Hotel Bretagna
Hotel Bretagna is in the GianFigliazzi Palace, a renaissance building going back to the 1400's.  A hotel since the 1800's, its guests' list boasts the likes of Alessandro Manzoni and Luigi Bonaparte King of Holland.
location: just one block from Ponte Vecchio and 2 blocks from the Uffizi museum. The hotel entrance is on the 2nd floor of an antique palace with rooms distributed throughout the building, giving a bit of a labyrinth feel.
about: the name Bretagna is inspired by its past guests and owners who were a mix of French and Belgian.  The decor reflects this French heritage - romantic and floral.  Some rooms are equiped with a jacuzzi. 
plus: hotel also has a new annex, Palazzo Alfieri, with newly refurbished modern style rooms.
read reviews of people who've stayed here
check out the Internet rates of Hotel Bretagna
2 ★★ 
Hotels on the Lungarno in Florence
Hotel Casa del Lago
A room with a view in Florence at bargain prices is a rarity, and this is what Casa del Lago is.
location: just at the end of the lungarno strip, this simple accommodation offers a river bank vista.  Hotel is on a top floor of the building which houses also the consulate of Austria and Luxembourg so it is very safe.  This is a limited driving zone so has the added benefit of no traffic, very quiet and clean.
about: Casa del Lago is a straight-forward no-frills affair, just a simple yet very clean room located along the river.  The staff are very helpful and courteous.  15-20 minute walk to the Duomo (or 10 minute mini-bus ride, stop is nearby)
plus: very close to Cascine park, a block from Teatro Comunale opera house as well as the new modern cultural center Teatro dell'Opera di Firenze.
see what past guests have to say
go to official site of Hotel Casa del Lago
Keep finding out about Florence....
If you like the content of this page, please share!  Click the button below.