Pizza Places in Florence
The Best Pizzerias in Firenze!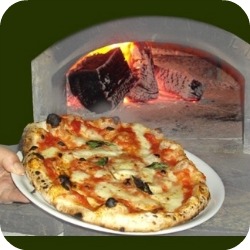 Which pizza places in Florence are the best?
There are a handful that stand out, and, surprisingly, most local residents actually agree on which places make the best pizza.  
Whenever pizzerias come up in the conversation, it's funny how Florentines always talk about the same places…
Now you too will be 'in the know'!
But first here are some handy things you might want to know about pizza in Florence:
if you just want to jump to the names of the best Florence pizza places click here
Two Types of Pizza
Florence pizzerias serve either Florentine pizza or Neapolitan pizza.
An authentic Florentine pizza has a thin and crispy crust – very thin and very crispy, so that when you cut into it, it starts to break apart into little pieces, almost like a cracker.  
Pizza from the south of Italy on the other hand (from Rome downwards) has a thicker softer crust and is breadier (see pic below).  
This type of pizza is generally just called 'Neapolitan' pizza since it originated in Naples.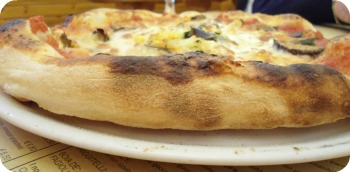 Restaurants either make a typical Florentine pizza or offer the thicker Neapolitan version – a few places offer both.  
Mention a great pizza place to a Florentine and the first question they'll ask will probably be 'is it a thick or thin pizza?' – most people are firmly rooted in one camp or the other, preferring either only thin or only thick pizza!
Pizza Toppings
In Florence, you don't order a pizza and then ask for this or that topping.  
Pizzerias have long lists on the menu of pizzas with assorted toppings, each pizza having a name.  
For example, a 'margherita' is a classic cheese pizza, a 'capricciosa' (kapreeCHOza – literally meaning 'whimsical') has olives, artichokes, ham, mushrooms and sometimes hard-boiled egg, and so on.  
The picture on the right below is an example of a thin crispy Florentine style capricciosa.
Also, each pizzeria has its 'house pizza' that is specific to that restaurant with a toppings combination of its own invention.  
This house pizza is usually named after the restaurant, so if the pizza place is called 'Leonardo's', the house pizza would probably be called 'Pizza Leonardo'.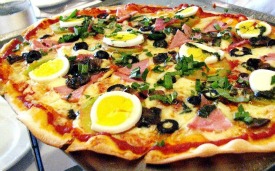 If you don't like any of the pizzas on the menu, you can, of course, just ask for a cheese pizza ('margherita' - margaREEta) with pepperoni ('salamino' - remember the word 'pepperoni' in Italian means 'bell peppers'!) or sausage ('salsiccia' - salSEEcha) or other topping of your choice.
Cooked and Served
All pizzas are cooked in a wood fired brick oven and are served whole, so each person gets their own individual pizza which is the size of a regular flat dish.  
So which Florence pizza places do the locals love?
Read below:
Santa Lucia
- pizza places in Florence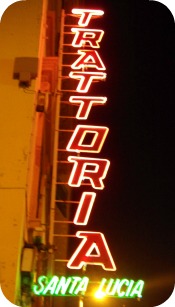 where: via Ponte alle Mosse, 102r (not far from Porta al Prato)
phone: 055 35 32 55
open:  only for dinner, from 7 pm (closed Wednesdays)
One of the reasons why I decided to move to my current apartment was because it was near to this pizza place.
It wasn't the main reason of course, but….it was up there.
Santa Lucia is not central, but it is just the best pizza in town (which is why I'm listing it first! See 'Dantesca' below for a very central pizza place).  
This is the first Florence pizzeria to make a Neapolitan pizza, 30 odd years ago (now Florence is full of Neapolitan pizzerias, but – IMHO - not as good as this one!). 
The menu offers pizza in two versions: thin or thick (Santa Lucia was also the first to adopt this option, an idea that many other pizza places have now 'borrowed').
The restaurant won't be winning any awards for its decor any time soon.  We're talking BASIC, nothing fancy at all.  
But don't be put off by the unimpressive exterior and the windows covered in beige curtains (strangely, they keep the windows covered so you can't see in the restaurant from outside…).  
This doesn't matter though because you couldn't get a seat in the place on a weekend night without a reservation even if you showed up with the Pope himself!
What makes the pizza so special is the dough recipe and the toppings.  
The tomato sauce and basil are so rich in flavour and the mozzarella too.  These are quality ingredients.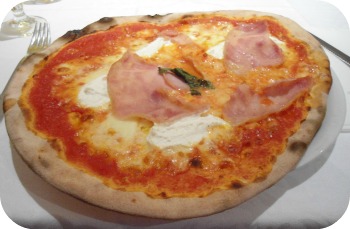 In fact, if you really want to taste the excellence of a Santa Lucia pizza I recommend getting a simple 'margherita' pizza or some other choice that doesn't go overboard on the toppings so the flavor of the main ingredients will shine through.  
The best choice is probably the 'Santa Lucia' pizza of the house (pic above)  which is a cheese pizza with just ham and ricotta cheese added.  
As the Italians say: 'Provare per credere!' 'Try it to believe it'. OMG!
Prices are within the norm, figure just under €20 a person for a pizza, beer and espresso.
You MUST book.  
A tip: book for an early hour, say 7:30 - the pizza oven is small and when the place is full it can be a long wait for a pizza.
Santa Lucia is also popular for its fish dishes, especially pasta with fish (portions are big too).
How to get there: this is walkable if you're a walker, from Porta al Prato it's a 10 minute walk straight up via Ponte alle Mosse.  
Otherwise a short taxi ride from the station (5 mins) or one of several buses:  no. 17 (direction Boito or Cascine) – get no. 17 at the station on the pharmacy side, the stop near the escalators - or any of buses no. 29 , 30, or 35 which all stop in via Alamanni on the tram side of the station.  
Get off the bus at the via Bellini stop. From the bus stop walk back to via Spontini (there's a pharmacy on the corner), turn right and Santa Lucia is one short block down on the corner of via Spontini and via Ponte alle Mosse.  
To go back downtown get any bus in via Ponte alle Mosse – come out of the restaurant and go left to the corner, the bus stop is half a block down on the right.
La Dantesca
- pizza places in Florence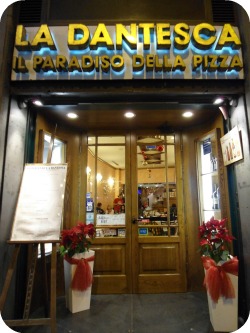 where: via Panzani, 57r (very central location, near station)
phone: 055 21 22 87
open:  12 - 3  and 6:30 - 11:30 pm
La Dantesca is a bit of a miracle: in spite of its very touristic location, extremely close to the station and on the busiest street leading into town and up to the Duomo, the pizza is 'the real deal'.
This is a Neapolitan pizza place with thicker pizza.
A characteristic of Neapolitan pizza, besides the thicker breadier dough, is that the pizza - especially the simple Margherita cheese pizza - is slightly under-cooked (see pic below).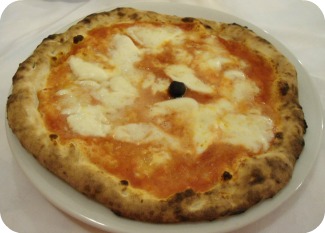 This is because a 'well-done' pizza doesn't bring out the flavor of the sauce, mozzarella and basil as well as a 'rare' pizza.
So if your pizza looks a bit 'gooey', that's normal!
Prices are not inflated either, especially on the pizza and pasta which go for around €7 and up.
Pizzas are generous as are the portions on the pasta dishes.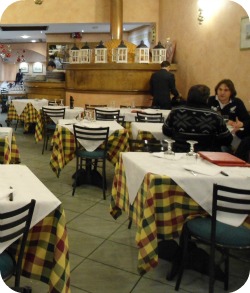 La Dantesca has very simple decor and is set up in one large room and a smaller room in the back - nothing fancy (pic left).
If you didn't know about it, you'd probably just walk right by dismissing this pizza place as one of the many anonymous restaurants near the station - but it's not, trust me!
You can also come in through piazza Santa Maria Novella at number 24r, the secondary entrance.
Spera
- pizza places in Florence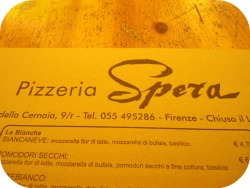 where: via della Cernaia, 9r (not central, north of Fortezza da Basso)
phone: 055 49 52 86
open:  for lunch Tue - Fri 11:30 - 2:30 for dinner Tue - Sun 7 - 11 pm (closed Mondays)
I hope you will forgive me for including yet another non-central pizzeria.
But don't you want the real scoop??
Read on and then let me know if it wasn't worth writing about Spera...
Every year in the town of Salsomaggiore near Parma the World Pizza Championship is held.
Spera won the prize for the 'world's best classic pizza' in 2002 for their 'Fantasia' pizza.
The pizza maker - an Italian woman named Elena Spera - even appeared on Jay Leno making her prize-winning pizza. 
You can see a picture of Elena with Jay in the restaurant.
Fantasia is a pizza with three sections, each with its own toppings including different types of cheeses and Italian delicacies like truffle sauce (see pic below of the award-winning pizza).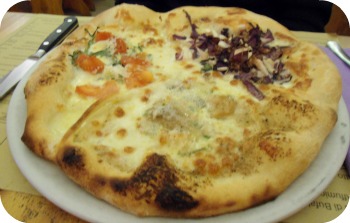 As you probably guessed from the picture above, Spera makes thick Neapolitan style pizza.
REALLY thick.
Finishing one of these pizzas is a challenge.
Here are the numbers: a Florentine pizza is made with 120 grams of dough, a regular Neapolitan pizza is made with 240 grams, and a Spera pizza?
Over 400 grams!
Conclusion: the pizzas here are FILLING.
Spera is also a 'real pizzeria' in that they only make pizza, there's nothing else on the menu (except desserts).
At street level is the entrance to the restaurant and the cooking area (this pizza place uses an electric oven and not a wood-fired brick oven), you go down the steps on the left to the lower-level eating area.
This is a simple pizzeria with wooden tables and paper place mats.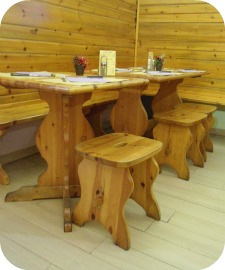 This isn't a place to go if you want to eat and then linger to chat.
There is always a long line to get in and diners are expected to have their pizza and then free the table for others.
Tables are close together and sometimes you may be seated at a table with people you don't know - definitely a friendly atmosphere!
Insider tips:
get there EARLY unless you like standing on the sidewalk waiting, just as they open is the best time
Spera doesn't take proper bookings, but if you call they do put your name on a list for priority seating (so you still have to wait but for less time)
if you're not a huge eater, for one Euro less than the full price you can order a 'mini' version of the pizza of your choice (but not the 'Fantasia' pizza which has 3 sections)
on Tuesdays and Wednesdays they offer 'Piatto Chic' which is an assortment of pizza samplings of their most popular pizzas
Prices: low, pizzas start at €4 and cover charge is under €1
IMPORTANT: No charge cards accepted - ONLY CASH.
How to get there: Spera may not be in the heart of town but takes a mere 15 minutes to get to.
From piazza Indipendenza it's one kilometer (about half a mile).
By taxi from the station it's only a few minutes.
By bus you can take any of numbers 4, 8, 20, and 28 going north to the 'Cernaia' stop.  
Bus no. 4 is probably the easiest as it starts off in piazza dell'Unità Italiana right near the station.  The bus stop is in the piazza near a big hotel.  You get off at the third stop.
Once you get off the bus, go to the corner which is via Cernaia, make a right and walk down one long block.  
Pizza place is on next block near the corner.
To go back downtown get bus across the street from where you got off.
On foot it's a 15 minute walk from piazza Indipendenza.  
Walk up via Santa Caterina d'Alessandria towards viale Spartaco Lavagnini.  Cross the wide viale (you should be on the corner of via Agnolo Poliziano once you cross) and go left.  
At the first corner make a right into via Leone X (you get to see the Russian Orthodox church in this street which goes back to 1899 and is a rare site in Florence with its 5 turquoise white and green gemstone domes).  
Just walk straight along this street - eventually you cross another wideish viale (viale Milton) and go over a small city stream, then the street turns into via Francesco Crispi.  
Just go straight and after 2 blocks you get to via Cernaia.
related pages you might be interested in:
If you like the content of this page, please share!  Click the button below.
---
back to FlorenceWebGuide Homepage from Pizza Places