Florence Airport Transfers
Get To Where You're Going In A Jiffy!
Florence airport transfers are easy because the city is quite small.
You can take a shuttle bus, a taxi or even hire a private driver.
Read about each option and decide which is best for you...
Shuttle Bus Into Town
The shuttle bus service from the airport is a good option.
When you come out of the arrivals area, go right (there'll be signs that say 'Navetta – bus shuttle').
The bus stop is just behind the taxi stand (see pic below right).
The first bus goes from the airport at 6 am and there's one every half hour up til 8:30 pm.  
If, on the other hand, you're leaving from downtown going to the airport, the first shuttle leaves the bus depot near the station in via Santa Caterina da Siena at 5:30 (right around the corner from the coffee shop called Bar Deanna).
From 8:30 pm to 11:30 pm there's only one bus per hour (leaving at the half-hour).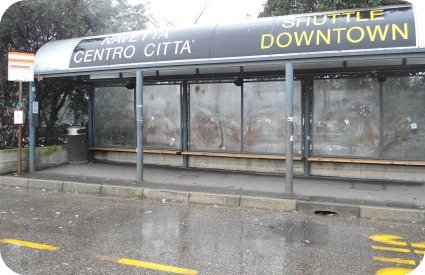 The shuttle takes you right near to the Florence train station in the main downtown area.
Costs:
€6 for a one way ticket
€10 for a two-way ticket
The shuttle is the least expensive of the Florence airport transfers if you are travelling alone.
But if there are several people in your group, consider the other transfer options which are much more comfortable and might even be less expensive!
Taxis
Taxis are another convenient way to get to your hotel.
There are fixed rates set by the city council so you don't have to worry about dishonest drivers or getting stuck in traffic and running up the meter.
The fixed rate is for Florence airport transfers going to any address downtown (and vice versa).
Fixed Taxi Rates for Florence Airport Transfers
| | Fixed rates from airport to downtown area |
| --- | --- |
| € 20 | Monday to Saturday from 6 am to 10 pm |
| € 22 | Sundays or holidays from 6 am to 10 pm |
| €23.30 | everyday from 10 pm to 6 am |
| € 1 | baggage surcharge (1€ per piece - max. 5 pieces) |
Rates are also posted on a sign near the taxi rank so everything is very transparent.
A word about tipping:
In Italy tipping is not expected and you are under no obligation to leave a tip (as opposed to the U.S.A. for example where a large part of many service providers' income comes from tips).
In any case, any tip that you do choose to give will be appreciated of course, even a Euro or two is considered fine - even generous!
Transfers With A Personal Driver
If you want total comfort and a stress-free transfer from the airport, consider booking a personal driver who will accompany you to your destination.  
It works like this: you come out of the arrivals gate and your driver is right there waiting for you, ready to whisk you off in a comfortable luxury car! Sounds pretty good, huh?
After a tiring journey, this is a great way to pamper yourself and start your vacation off on the right foot!
Private Florence airport transfers cost a bit more of course than a bus or taxi, but you get your money's worth.

You will have an English speaking driver you can easily communicate with, you won't have to wait for buses or stand in long taxi lines, you won't have to lug suitcases here and there (your driver handles all that!), and - most importantly - you get to where you're going in a snap in total comfort and ease!

Find out about Florence airport transfers with a hired car and a personal English speaking driver
Shuttle Bus For A Car Rental In Florence
If you have pre-booked a rental car to pick up at the airport, or are interested in a car hire in Florence there is a shuttle bus service.
The shuttle will take you to the area where all the car rental companies have their offices and car fleets (a few minutes away from the airport).
The bus leaves every 10 minutes from 5 am to 11:30 pm.
The bus stop is near to the arrivals doors in the parking lot.
Need To Go From Pisa Airport To Florence?
That's simple too!
The train station is connected to the airport in Pisa so you're right where you need to be.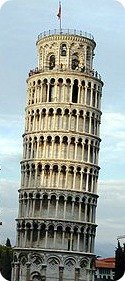 Trains run regularly during the day from about 6:30 am until about 10 pm, and there are ticket machines near the platform.
Get a train going to Santa Maria Novella (S.M.N.) Firenze station, the main station in the city center (there are other stations but you want S.M.N.!).  
Trains can be direct or you may have to change at Pisa Centrale.
Before 6:30 and after 10 pm there probably won't be a train, but there is a coach service which runs regularly.
Get more information about the bus from Pisa airport to Florence.
Both the train and the coach take about an hour and a quarter to get to Florence.
Want the easiest most comfortable option from Pisa airport?  Find out about a private transfer to Florence.
Art At Florence Airport
You can appreciate great art work everywhere in Florence, even at the airport!
Right outside the arrivals doors in the parking lot you can see two examples of Italian sculpture honoring Florentine explorers.
| | |
| --- | --- |
| Sculpture of Vasco Magrini, a Florentine pilot in World War One  | Sculpture in honor of Amerigo Vespucci by Romano Lucacchini |
There's more useful information at these pages:
---
If you like the content of this page, please share!  Click the button below.
photo of Leaning Tower of Pisa care of Wikipedia
back to FlorenceWebGuide Homepage from Florence Airport Transfers