Florence Train Station
A Guide to One of Italy's Oldest
and Busiest Transport Hubs
Welcome to your Florence train station insider guide!
The main Florence Train Station is called Santa Maria Novella (SMN) and is conveniently located in the heart of town just a few minutes walk to all the main sights.
Remember this 'SMN' because that is what you need to look out for when booking tickets or pulling into town: 'Firenze S.M.N.'.
There are other minor stations along the way, but don't get off at those,
Italian trains are efficient, clean and very affordable.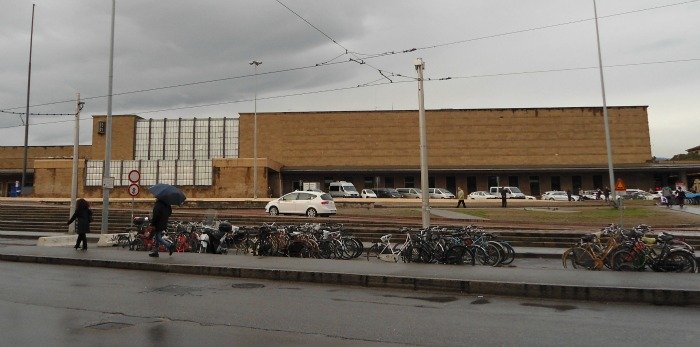 Rail travel is also a great way to take day trips from Florence.  
With a train you arrive right in the downtown area of most Italian cities.
And Italian trains are also getting faster and faster.
Now you can zip over to Rome, Venice and Milan in a fraction of what it used to take.
The Florence train station can seem very confusing at first however…
No worries - with these guidelines, and you'll be getting around like a Florentine veteran!
Train Information
There are two ways to get train information at the Florence train station.
Use the ticket vending machines in the station (more on this below) – even if you're not buying, you can use the machines to see all the train schedules
Look at the yellow train schedule boards found on each platform  - these list every train that leaves from the Florence train station.
(To get train information online use the links at the end of this page).
Reading the Train Schedule Information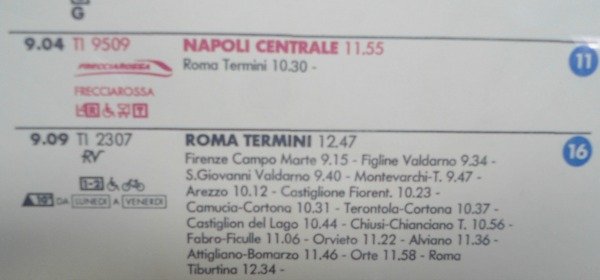 Here are some examples of how to read the train info.
At the top is a train to Naples. 
The red color and writing that says 'Frecciarossa' means that it's a high speed train (these cost more).  
On the left you see the time it leaves (9.04 am) whereas the number in the blue dot on the right tells you the platform it usually leaves from, track 11 (but always check the up-to-date monitors to be sure!).
The second is a train going to Rome, and you can see that it makes many stops before arriving at Termini station at 12.47 pm.  
This is handy if you want to go to one of those smaller towns, for example, Montevarchi, a VERY popular destination for shoppers – that's where the Florence mall for designer outlet shops are!
Getting Tickets
To buy tickets you have four options:
the ticket counter
vending machines
Insider Tip!  Newsstands
Insider Tip! Florence travel agencies
buy over the Internet
Option no. 1
This is the tried-and-true old-fashioned way to get a train ticket, you just go to the ticket counter at the Florence train station where there is a person who serves you.
But this mean you'll have to wait in a line that could be long and slow...do you really want to waste precious vacation time?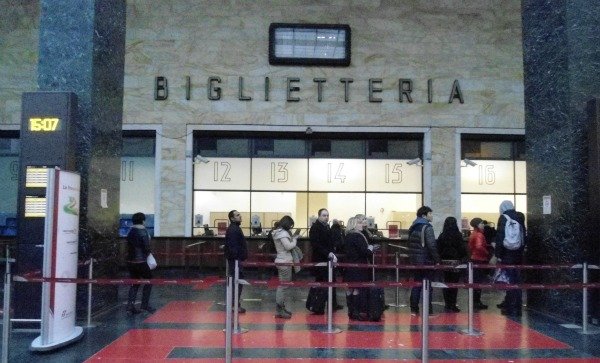 Option no. 2
Using the handy ticket vending machines is fast and easy.
There are 3 types of machines though, see pics below and read to recognize the difference.
The shot below shows the most useful machine for getting all types of tickets to go basically anywhere - notice it says 'Fast Ticket' at the top.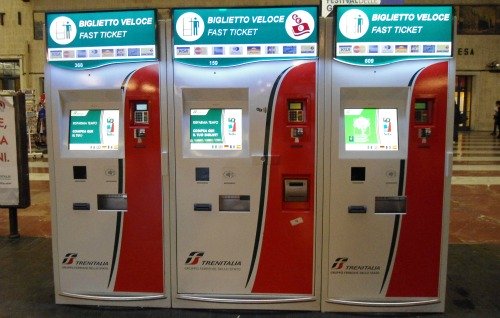 ---
| | |
| --- | --- |
| This machine below only sells tickets within the region of Tuscany - notice it says 'regionale' - you won't need this, see tip below | The red 'Italo' machines are for a new private rail company - trains only go to major cities but prices may be a bit lower than Trenitalia trains |
Option no. 3
Insider Tip: do like the locals do and save time!
There's a ticket called 'biglietto regionale' that you can use to get anywhere in Tuscany, at it takes just a second to buy!
You simply go to any newsstand at the station that shows the sign 'biglietti' or 'biglietti regionali'.
You ask for the destination of your choice, pay the person, and you're done!
Remember though to stamp the ticket before you get on the train - see 'Stamp Your Ticket' below.
For a two-way trip you need to buy two tickets as each ticket is only good for one way.
These tickets cost exactly the same as buying the other ways, but are MUCH faster to purchase.
Some examples of cities in Tuscany these tickets are good for:
Pisa

Siena

Arezzo

Prato

Grosseto

Livorno

Lucca

Viareggio

Empoli
Here an example of a sign where they sell regional tickets: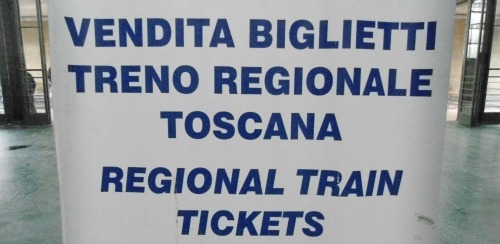 Option no. 4
This is a great insider tip! 
Almost all travel agencies in Florence provide a train booking service for a very small surcharge.  
Just go into any agency you happen to see and ask them to book for you.  
They do all the work and print out your ticket on the spot, and you're done in a jiffy!
Option no. 5
If you prefer to book online you'll find the link to the official Italian railway site, Trenitalia, and another good site for booking at the end of this page.
Payment with Ticket Machines
Machines are a snap to use, just choose your language and follow the instructions.
Most machines take both credit cards and cash, but some only take credit cards.
It's so annoying to go through all the touch-screen selecting, choose your tickets and then find out when it comes to pay that the machine doesn't take cash!
It's easy to avoid this.
Just look for the symbol at the top of the machine – if it takes bills and coins it will have an image like this: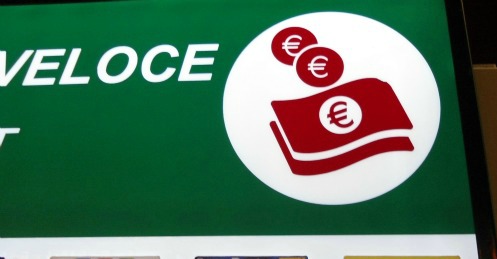 Stamp Your Ticket Before Boarding
Once you have your ticket you must stamp it before getting on the train.  
This validates the ticket for use.  
There are fines for non-stamped tickets so look for the machines on the platforms and stamp before getting on the train. 
Train from Rome to Florence
Many people fly into Rome and then take a train to Florence – this is often cheaper than flying here directly.
If you need to catch a train from Rome to Florence there are basically three options:
Note: the first train from Rome to Florence leaves at about 6 am and the last at about 8:30 pm, outside of these hours you may be stranded in Rome!
A Regionale Veloce, literally a 'fast regional' but it's a misnomer because it takes nearly 4 hours!
A Frecciarossa (or Frecciargento), a high speed train run by the Italian railway company Trenitalia
An Italo train, a private run high speed train 
Here's a chart with more information about these three choices
| Train from Rome to Florence | Time | How Often Trains Go | Base Price |
| --- | --- | --- | --- |
| Regionale Veloce | 3 hrs 45 mins | about every hour | € 20 |
| Frecciarossa | 1 hr 25 mins | every half hour | € 40 |
| Italo | 1 hr 37 mins | about 7 per day | € 35 |
Important If You're Coming from Rome Airport
If you are coming from the airport in Rome and you're then getting a train from Rome to Florence, you will have to first get a train from the Rome airport to Termini train station.  
Then, from Termini to Florence SMN.  
NOTE: the track where you pull in coming from the airport is VERY far from the tracks with trains that go to Florence.  
Give yourself a good half hour or even 45 minutes between connecting trains so you have time to get to your connection.
You can easily buy your ticket at the ticket machines in Rome, but if you want to book your train from Rome to Florence ahead of time, see the links for train information in Italy at the end of this page.
Station Exits, Taxis and Buses
There are two main exits/entrances to the Florence train station.  
To go towards the heart of town, go out from the side near the pharmacy.  
Leaving from this side also takes you to the stops for the most used bus lines and the taxi stand too.
To get to the cabs, go right after exiting the station from the pharmacy side.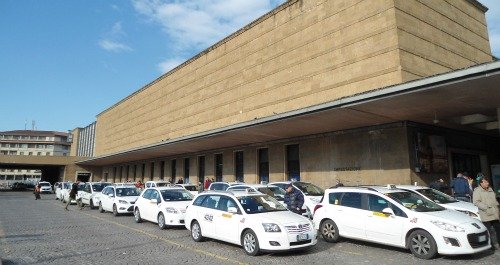 And BTW, the exit on the other end of the station has a lot of steps so avoid if you have lots of luggage!  
Some Facts about the Florence Train Station
It is named after the Santa Maria Novella church, located right in front. 
The station was built low and on a horizontal plane (see pic at top of page).  This was done intentionally so as not to over-shadow or block the view of this great cathedral.
The Florence train station was built in 1935 after its design was approved by none other than Mussolini who was in power at the time in fascist Italy. 
Near platform 8 is a plaque in memory of those who were deported from Florence to concentration camps during the second World War, leaving from this very track.
SMN is one of the few examples of modern architecture in Florence (although a new and very modern Florence Opera House is currently being built at the Cascine park).
Useful Links
Official site of the Italian railway Trenitalia
A good site for booking and info about trains in all Europe
---
If you're interested in the Florence train station, you might like these related pages:
If you like the content of this page, please share!  Click the button below.
FlorenceWebGuide Homepage from Florence Train Station