Florence by Bike
Explore the City on Wheels!
Visiting Florence by bike is such a fun way to see the city.  
You can rest your weary feet and enjoy that exhilarating feeling of freedom that only a bicycle can give!
A bike lets you whiz around town in total independence, and the city is just small enough to get to all the main sights with a handy two-wheeler...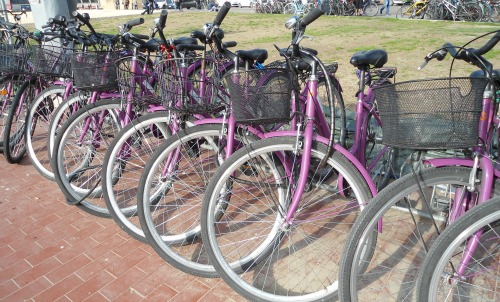 Luckily too, this is also a fairly flat town (the downtown area anyway!), so you don't need to be Lance Armstrong to cycle around.
Here are your options for exploring Florence by bike:
Rent a Bike
The bike rental agency milleunabici collaborates with the city council tourism board and offers the lowest rates in town for renting a bike.
| Prices for holiday makers | |
| --- | --- |
| 1 hour | € 2 |
| 5 hours | € 5 |
| 24 hours | € 10 |
There are 3 Florence by bike rental locations in the downtown area:
Piazza stazione (at the SMN train station)
Piazza Santa Croce
Sant'Ambrogio Market (piazza Ghiberti)
The Florence train station pick-up point has the most bikes so I recommend it as the best place to rent from.
To rent, you just have to leave a valid document (eg driver's license or passport) or a €50 deposit, and you're off!
| Timetable for bike rental service | |
| --- | --- |
| November - February | 10 am - 5 pm Monday to Saturday |
| March - October | 8 am - 7 pm Monday to Saturday |
| Closed on Sundays and national holidays | |
Two More Options For Renting
If the Milleunabici service is closed, here are two good second options downtown.
Prices are just slightly higher, but are still very reasonable.
Florence by Bike, via San Zanobi 54R, tel.  055 488992

Alinari, via San Zanobi 38r, tel. 055 280500 - if you're really adventurous, you can also rent a scooter here!
These two shops are usually open on Sundays in high season.
Tours to See Florence by Bike
A wonderful alternative to renting a bike on your own, is to take a bike tour of Florence.
Cycle along the charming narrow roads while visiting all the major sights in town: the Ponte Vecchio, Piazza della Signoria. the Duomo, and lesser known spots too…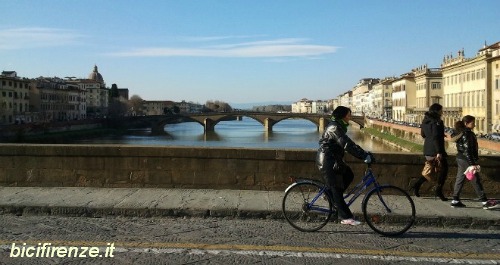 Bike tours let you cruise at a leisurely pace while an expert guide fills you in on interesting facts about each spot.  
You'll find out so much and really get to know the city well!
The Classic Bike Tour of the City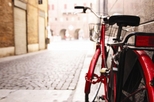 This classic tour is a great option.
You see all the main sights and also go over to the lesser-visited Oltrano area.
The Oltrarno is the neighbourhood of artisans and antique workshops and is considered by locals to be the 'real' Florence.
There's also a stop-off at one of the best gelato shops in town for a complimentary ice cream (or hot chocolate in winter!).
You should also bring your camera on this tour – your guide will take you to some perfect spots for taking photos!
The Sunset Bike Tour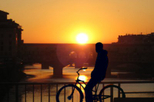 The sun setting over Florence and the Arno river is a sight I never tire of seeing.
This sunset bike tour lets you explore the city in the romantic hue of day turning into night.
See all the classic sights from a totally different perspective, with the sunset and city lights glistening over the trickles in the Arno.  
Nothing is more picturesque than Florence at night!
Your tour guide will take you to where you get the very best views while telling you all about the city's culture and history.
---
Interested in a tour by Segway?  Scooter?  A romantic horse and buggy even?
You might also be interested in:
If you like the content of this page, please share!  Click the button below.
FlorenceWebGuide Homepage from Florence by Bike