Florence and Deruta Ceramics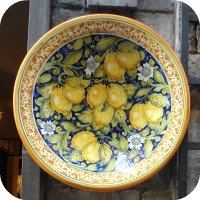 Florence and Deruta ceramics are perfect if you want to take a little piece of Tuscan or Umbrian artistry back home with you.
Entirely hand made and painted, these beautiful pieces really brighten up any environment and make for a perfect souvenir  - whether for every day use of just to decorate your walls.
Ceramics come from workshops in and around Florence, from the small nearby town of Montelupo and from Deruta, a small city in Umbria famous for its ceramic production.
Typical Florentine designs usually involve images of the countryside, grapes, leaves and Tuscan nature scenes with yellow being a predominant color, reminiscent of the sunflowers spotted all over the Tuscan hills.  
Popular ceramic pieces that people love buying are serving platters and large-sized dishes and bowls, for use or merely for decorative purposes.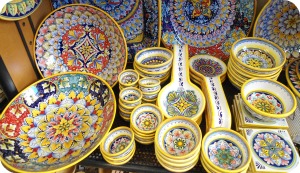 For people wanting to make smaller purchases some nice popular items are pitchers, espresso coffee sets, ash trays and spoon rests.
Since there are so many ceramic shops in Florence (and most of them have pretty much the same stuff...), the recommendations below are for shops that carry original designs with high-quality painting as well as being all hand-made and guaranteed made-in-Italy of course.
A. Carnesecchi - Florence and Deruta Ceramics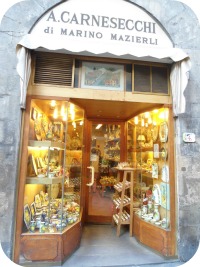 where: via Guicciardini, 4r (between Pitti Palace and Ponte Vecchio)
store hours: 10 - 7
phone: 055 23 98 523
This shop is right in the heart of Florence, on probably one of the busiest streets in town.  What sets 'Carnesecchi' apart from all the other shops in the downtown area?  
Firstly, several of the hand-painted designs and patterns are exclusive to the shop and can't be found elsewhere in Florence.  
Then, Matteo and Lucy take special care of their customers.
Ask them to personalize a ceramic piece and they will have it done for you within a day or two.
For example, you can have a Christmas ornament customized or a magnificent hot plate in a Florentine geometric pattern with your family name added.  
Below see a picture of a personalized plate for a new addition to the family (right).  
The shop also has some replicas of Della Robbia terra cotta pieces as seen in the Bargello museum as well as reproductions of other Renaissance works and a small selection of Deruta ceramics.  
A shop for the real ceramics aficionado.  
Small items from €6, large decorative wall platters up to €300.
Luca della Robbia (since 1904) - Florence and Deruta Ceramics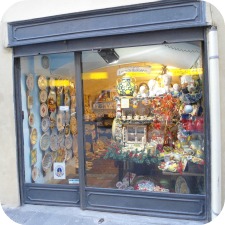 where: via del Proconsolo, 19r (near Bargello museum)
store hours: 10 – 6:30    Mon and Sun 2 – 6:30
phone: 055 28 35 32
Della Robbia is a long-standing ceramics boutique in Florence and has been classified as one of the city's historic shops thanks to its over 100 years of activity.  
The shop is right outside the Bargello museum, and as the store name implies, you can find many reproductions of Della Robbia pieces that are on display at the Bargello.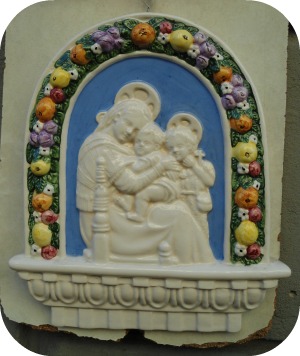 The Della Robbia style is characterized by the well-known white and sky-blue colors, biblical images and the colored floral decorations framing the piece (see pic right).  
The shop has a large selection of Deruta ceramics as well in the typical geometric patterns and bright colors.
Although Della Robbia is a tiny shop, it's overflowing with a wide variety of ceramic pieces in several different styles - a real feast for the eyes!
Prices: average, small items from €15, platters about €70
Le Mie Ceramiche - Florence and Deruta Ceramics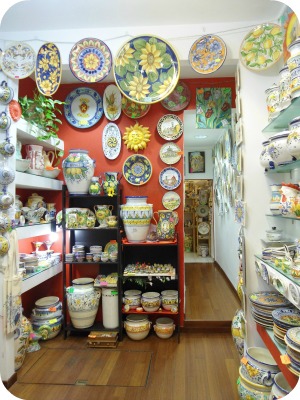 where: via Verdi, 8r (just off piazza Santa Croce)
store hours:  Mon- Sat  9:30 – 1:30 and 2:30 - 7
phone: 055 24 66 007
Ambra, the ceramics artist, produces pieces that remind you of the Tuscan countryside and Florence in general.  
Her and her father make all the pieces in the shop, working at their workshop at home and in the store itself.
Ceramics here are inspired by the style found in the nearby town of Montelupo, famous for its ceramics worldwide.
At Le Mie Ceramiche you can see some of the pieces before they've been put in the oven for the final baking.
This allows you to observe the painting process of the ceramics and it's interesting to see how different the pieces look at this mid-way point.  
Prices: small bowls around €25, mugs about €20, platters €65.
Note that there are no Deruta ceramics here as all pieces are own production.
Florentia - Florence and Deruta Ceramics
where: via dell'Ariento, 81r (San Lorenzo Market near via Nazionale)
store hours:  every day 9:30 – 7
phone: 055 23 96 523
Florentia is a small shop that I am mentioning here for two reasons.
First, it's convenient location near the station, Duomo and San Lorenzo market.  
If you are only in Florence for a short visit and don't have time to go around much, this is a good central shop for Florence and Deruta ceramics as you can find a wide selection of different styles.
And secondly, the shop has a particularly nice selection of Deruta ceramics which are splendidly painted (the picture at the start of this page of assorted Deruta ceramics was taken at this shop).
Florentia also carries Florentine ceramics, but not the delicate or intricately painted type (which you can find at all the other shops on this page...), but a style that is a bit kitschy in a good way (see pic above right).
Prices: the shop has a wide range of prices with small items starting at about €15.  The Deruta pieces are the priciest (and the loveliest!).
---
These Florence Shopping pages are updated regularly.
I am always out and about in town looking for new shops and great finds to recommend...
Come back often to get the latest news about the best places to shop in Florence!

---
related pages you might be interested in:
If you like the content of this page, please share!  Click the button below.
back to FlorenceWebGuide Homepage from Florence and Deruta Ceramics