Things To Do in Florence in May 2016

The Best Florence Events Calendar for What's On!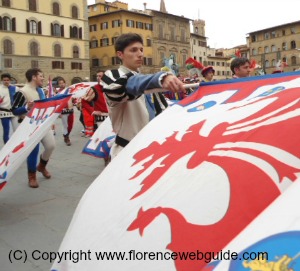 There are so many things to do in Florence in May 2016, this guide will help you choose the best ones for you.
The rainy season should be over by now and the Italian sunshine is waiting to be taken advantage of.
The colors of May are echoed in flag throwing ceremonies, flower homages, and even an ice cream festival (what better way to welcome summer?).
Check out the Florence Events Calendar for May 2016 to find out everything going on in town including traditional festivities that will really let you experience Firenze like a Florentine.
May Day - a National Holiday in Italy
The first of the month is May Day, a national holiday in Italy.  This is Europe's 'Labor Day' in honor of the workers of the world so most people get the day off.
Public services are reduced (eg buses, trains) and most all museums will be closed.
You need to know about May Day for another reason too: the weekend just after the holiday is often used as a three day weekend by Italians who love to take weekend trips to nearby cities.
For sure, there are going to be a lot of visitors in town so book early!
But rest assured, there will still be plenty of things to do in Florence in May despite the national holiday.
Historic Flag Throwing Contest
A MUST out of the things to do in Florence in May!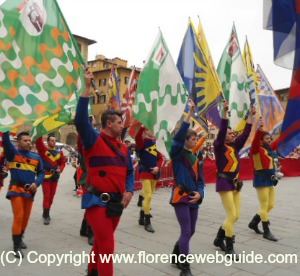 See a myriad of colors as the flags flutter in the wind as expert flag throwers participate in the Marzocco Trophy (Trofeo Marzocco).  
The Marzocco is Florence's famed lion, one of the city's most important symbols.
Master flag handlers from various Italian cities come to Florence to compete in Il Trofeo Marzocco.  
Witness choreographic exercises of exceptionally scenographic effect as experienced flag throwers vie for first place.
Live music accompanies the performances so this is really one of the best things to do in Florence in May for free!
where: Piazza delle Signoria
when: May 1 at 3.30 pm  entry: free
Great fun for kids and families!
Notte Blu 
The Notte Blu returns to Firenze.
'Blue Night' is another way of saying 'Europe Day' as blue is the color of the European Union flag.  This event celebrates the anniversary of the foundation of the European Union which took place in May 1950.
See live concerts, open-air dance performances, art and photgraphy exhibits, video and film showings, talks and workshops, outdoor markets and more run by and dedicated to the member countries of the EU.
This year our 'Notte Blu' is held at and around the 'Murate', a former penitentiary whose courtyard has been turned into a cool downtown residential area and contemporary art center.
All events are free of charge.
where: le Murate, piazza delle Murate and surrounding squares
when: dates to be announced
Official site for Blue Night calendar of events (in Italian but easily translated into English with google translator tool)
La Festa della Mamma - Mother's Day!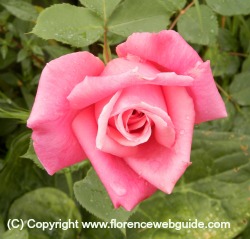 In Italy Mother's Day is celebrated on the second Sunday of May.
In 2016 La Festa della Mamma falls on May 8th.  
Expect to see plenty of flower stands around the piazze in town selling all sorts of floral arrangements to buy for mamma, especially azaleas which are very popular flowers to give to mom on this holiday in Italy.
The weather in May is perfect for outdoor dining, so take mom to celebrate for a lovely meal at one of the many open-air eateries around Firenze.  One of the fun things to do in Florence in May with the family!
Artisans exhibit their know-how at 'Artigianato e Palazzo'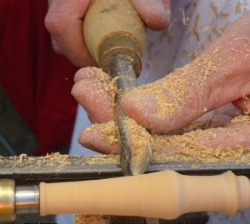 Looking for things to do in Florence in May besides museums?
Master artisans from Florence, Italy and Europe exhibit their craft at this fair paying homage to all that is 'hand-made'.
Over 80 craftsmen and women display their goods along with showing the public via live demonstrations just how they go about creating these precious hand-manufactured items.
See Jewelers, wood carvers, sculptors, paper makers, ceramic artists, tailors, perfume makers just to name a few, all in the elegant yet cozy and peaceful setting of the garden of a palace from the 1500's.
Artigianato e Palazzo is located in one of the city's splended private Italian gardens which opens few times a year for special occasions such as this which makes it one of the top things to do in Florence in May for crafts lovers.
Exhibit info:
when: Thursday - Sunday, May 12 - 15   2016 
where: via della Scala 115 (at the Giardino Corsini near Porta al Prato)
hours: 10 am - 8:30 pm (Friday & Saturday open til 10:30 pm)
cost for entry: €8, over 65 years €6, from 7 pm onwards every day free entry
Flower Homage to Savonarola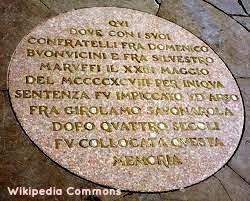 Every May in Florence flowers are donated in memory of the Domenican friar, Fra' Girolamo Savonarola.
Savonarola was hanged and burnt at the stake in 1498, along with 2 other friars accused of being heretics and speaking against the corrupt pope.
The Fiorita Commemoration takes place at the circular plaque embedded in the stones in Piazza Signoria, at the very spot in the square where this historic event took place.
Just as the townspeople had done the morning after the death of the preacher, today the citizens of Florence leave flowers for Savonarola who commanded the Florence republic from 1494 to 1498.
The cerimony is followed by a procession in period costumes leading to the Ponte Vecchio, the bridge that Savonarola's ashes were scattered from.
where: Piazza della Signoria
when: Saturday May 23 10.30 am
If you're looking for authetic traditional things to do in Florence in May look no further and join in on the Fiorita Commemoration.  This event is free too!
Boboli Perfume Fair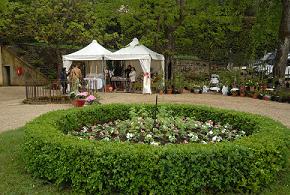 For several years this perfume fair was held at the Boboli Gardens.  This year it has been moved to the recently restored lemon house of Villa Strozzi, a bit off the beaten path!
In May this summer villa hosts Profumi di Boboli a festival and garden market dedicated to perfumes and the making of the same.
Apart from scents and fragrances, stalls will be offering also candles, soaps, perfumed oils and essences, herbal teas, spices, cosmetics, natural fabrics, and more.
where: via Pisana 77 (see map)
when: dates to be announced
entry: free
Prettiest Iris Competition at the Florence Iris Garden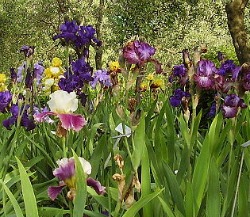 Every May in Florence an annual Iris competition is held at the city's Iris Garden.
Hybrids are cultivated for three years before taking part in the competition which selects the prettiest or most original Iris of the year.
The Iris is the symbol of the city, with the Giglio di Firenze being the familiar deep red color.
Iris flowers are cultivated from all over the world and as they bloom the garden comes to life in a cornucopia of colors and scents.
The garden is open from April 25 - May 20 but the Irises don't usually start blooming until the second week of May (but of course it depends on the weather - the sunnier it is, the faster the buds will open up).
when you go to Piazzale Michelangelo (one of the absolute 'musts' on everyone's list of things to do in Florence in May or any month), a visit to the Iris Garden is highly recommended. 
where: corner of Viale dei Colli and Piazzale Michelangelo (bus 12 or 13 from station)
entry: free
hours: 10 - 12:30 and 3 - 7 everyday from April 25 - May 20
The Rose Garden and Open Air Museum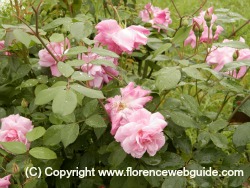 Just below Piazzale Michelangelo is the Florence Rose Garden.  
The garden is open all year but it is in the month of May that the roses are in full bloom.
This is another of the great free things to do in Florence in May as the garden charges no entry fees.
The garden has over 350 different types of roses which can be admired along with the panoramic view over the city from this hilly location.
Not just roses, the garden also displays 11 sculptures of the Belgian artist Jean Michel Folon in an open air exhibit all year round.
A small area of this city park is also a Japanese garden - 'Shorai-Teien' - a gift from the twin city of Kyoto which includes a lovely tea pagoda and waterfall.
where: viale Giuseppe Poggi (going up to Piazzale Michelangelo)
hours: 9 am - sunset
Classical Music & Opera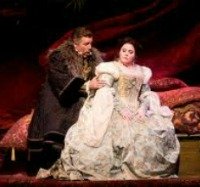 Whether you're an opera buff or not, or a classical music lover or not, these shows are bound to delight.
Top classical music companies put on performances of the most popular operas in Medieval and Renaissance churches, an unforgettable atmosphere!
Take in all the action while sitting in a historic landmark of Firenze such as St. Mark's Church or the Auditorium of the Duomo.  
You don't need to be an expert either: the narrator takes you through the plot and explains each part of the drama as the story unfolds, so you don't miss out on anything.
Another plus is how close you can get to the performers.  Unlike a large opera house, a church is an intimate small venue, cozy almost.  This allows you a close-up look at the performers' expressions and really helps you 'get into' all the drama.
Choose between the abridged version of the operas (ie the most popular pieces and arias are performed) or enjoy a full night out with dinner as well.
See the full schedule for opera & classical music on the Florence events calendar for May.
A night to remember for sure as one of the most special things to do in Florence in May!
A Night at the Museums - 'La Notte dei Musei'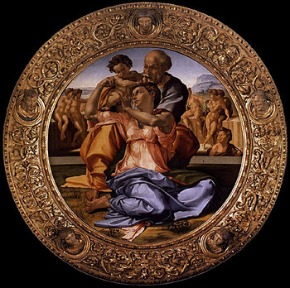 Culture vultures are in luck because one of the most special things to do in Florence in May is to participate in Museum Night!
Extraordinary openings of museums take place all across Europe on this date, and also Firenze is participating in the initiative.
Some of the city's major museums and galleries will be open in the evening with free entry too.
Dates for the Museum Night are to be announced soon!
Museums participating include the San Marco museum.
Don't miss out on the chance to saunter in and out of Florence's world famous museums without waiting in lines and without having to get tickets!
Uffizi Gallery - Remembers Victims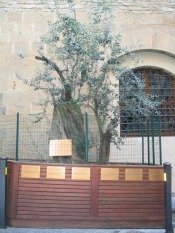 May 26 is the anniversary of the terrorist bomb attack near the Uffizi Gallery.  
The explosion claimed five lives in 1993 when a car bomb went off at 1 in the morning.
The museum and the city of Florence remembers the victims by keeping the gallery open in the evening from 7 - 11:30 with free guided visits.
Documentaries will also be shown with footage of the aftermath of the explosion.
when: May 26 at the Uffizi Gallery near Piazza Signoria
In via dei Georgofili, a few feet from the Uffizi entrance, there is a bronze sculpture by Robert Barni that is lit up at 1:04 am - the exact time the bomb exploded.  The sculpture is placed along the wall of a building so you must look up to see it.
Cooking Classes in Florence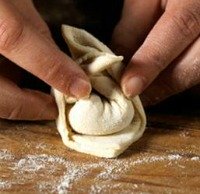 Doesn't everybody love Italian food?  
Take advantage of your time in Florence to learn how to cook up some fantastic local dishes.
Taking a cooking class held by a local chef is one of the most popular things to do in Florence in May!
Learn how to make homemade pasta, pizza and gelato, or even tiramisù.
Cooking classes in Florence can also include market trips to learn how to pick the perfect ingredients or lessons that lead up to a grand Florentine dinner all together.....find out more below.
see the full list of cooking classes on the Florence events calendar for May 2013
Food & Wine Tours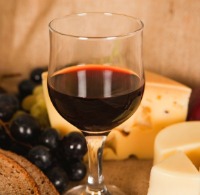 A Food & wine tour is the best way to learn about local delicacies and Tuscan wines.
To fully appreciate a great wine, like our eternally loved Chianti, you need to match the wine with the right foods to bring out and compliment the rich and unique flavors of both.  
Let a wine expert - called sommelier  in Italy - take you on this journey of the taste buds!
Read the full list of the gourmet Food & Wine tours - one of the top things to do in Florence in May.
---
Find out more about Florence with Quick Links...
---
If you like the content of this page, please share!  Click the button below.
Go back to FlorenceWebGuide Homepage from Things To Do in Florence in May