Things To Do in Florence in February 2015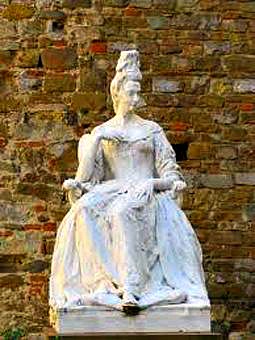 What are the things to do in Florence in February 2015?  
The woman in the picture to the left is a very special lady who is celebrated this month in Firenze: Anna Maria Luisa de' Medici - read below to find out why!
Of course you will want to check out the world famous museums, eat at the best restaurants, and buy some fabulous made-in-Italy goods, right?  You can read about all this here.  But there's more....
Classical music, opera nights, musical cocktail hours, a chocolate fair, the Russian ballet, and the ever popular Inferno Tour too!
Into sports?  There's soccer of course, but also skiing, skating and snowboarding, yes, in Florence!  
Find out the best things to do in Florence in February 2015 below...
Most Popular
At any time of the year, there are some popular ways to spend time in Florence that never go out of fashion....
Visitors to Firenze flock to the world famous museums or go on city tours to get to know the town's history better.  And of course, people love their guilty pleasures: shopping and eating at the best restaurants!
Italian Opera Performed in Historic Churches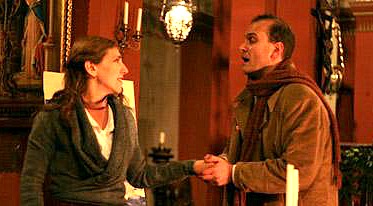 One of the classic and most loved things to do in Florence in February is to take in a live operatic performance in one of the city's ancient churches.
These are exciting nights out because the venue is so small you feel like you're practically on the stage with the singers and musicians!  
The program this month has all the popular favorites.
There's La Boheme, Traviata, Madame Butterfly and also Bizet's Carmen, or even an evening of just love duets - super romantic!  
See the full schedule of shows at St. Mark's Church and other venues
Celebrate Anna Maria Luisa de Medici
Anna Maria Luisa  - the lady at the top of this page - was the last heir to the Medici dynasty who died on February 18 in 1743 leaving all the family's artistic masterpieces to the city of Florence.
The city pays homage to this forward-thinking historic figure whose generosity has helped make Firenze the hub of the renaissance as we know it today.
The actual celebration for Anna Luisa is on February 18 - the date of her passing - with a city procession through the downtown.
Marchers dressed in period costumes representing the Florentine Republic parade from Piazza Signoria to the Medici Chapel, where Anna Maria and the other members of the family are buried.
The Chapel and Museum are open free of charge on this day (as well as other city museums such as Palazzo Vecchio Museum).
where and when: procession starts in piazza Signoria, at 11 am, February 18
Chocolate Fair in Florence!
This is one of the top things to do in Florence in February with the kids!
The Chocolate Fair is an open air celebration of one of life's greatest pleasures, the joy of eating chocolate.
You'll find thick luscious hot chocolates, layer cakes, mixed varieties of chocolate ice cream, and countless types of bon bons, all up for the eating.
Stands are held by artisan chocolate masters - see them live at work as they create their mouth-watering delicacies!
when: February 6th - 15th, from 10 am - 10 pm
where: piazza Santa Maria Novella (near the station)
Carnival Time!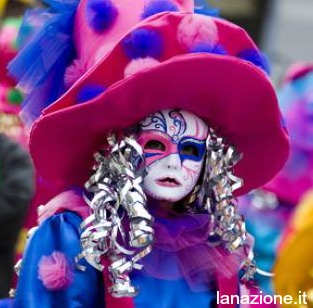 This month is Carnival Time, the period leading up to Lent also known as 'Mardi Gras' when people have fun dressing up in costumes and throwing parties and confetti in the streets.
One of the fun things to do in Florence in February is to get in a party mood by admiring the shop windows and street decorations dedicated to Il Carnivale.
If you see locals parading around in stilts with extravagant make-up and hats, this is the reason...there are Mardi Gras festivities going on all month!
There are also special treats for carnivale like cenci (fried pastry) and schiacciata fiorentina (a flat sponge cake) both covered in a snow of powdered sugar - make sure you taste these Florentine specialties during February!
There's no particular appointment or place to go to enjoy carnivale, events take place all around the city and often in the squares so you can't miss them - just stroll around and enjoy the fun (it's free too!).
Cocktail & Concert at Bardini Gardens
This is one of the things to do in Florence in February that combines admiring the beauty of the city with music.  
The Bardini Gardens - which offers one of the finest vantage points for great views of the city skyline for sure - is host to musical aperitif hours!
The villa is on the south side of the city on the hills just over the Arno river.  
Classical music concerts are held in the elegant hall with cocktails and snacks included.  
when: Tuesdays, February 4 & 18 at 5 pm (4 pm to visit villa and see exhibit)
cost: concert & cocktail €4 (with villa visit €6)
where: Costa San Giorgio, 2 (for more into tel: 055 20 06 62 06)
Don Quixote Ballet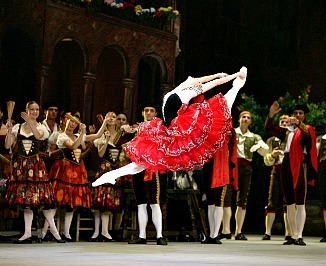 If you're a dance lover one of the exciting things to do in Florence in February is to take in the Russian Bolshoi Ballet performing Don Quixote!
The troupe from Moscow is in town for just one special performance of Cervantes' classic set to music by Ludwig Minkus and choreographed by Petipa e A. Gorsky.
Follow Don Quixote and Sancho Panza on their wanderings brought to life by the superlative technique and artistry of the Bolshoi dancers, not to be missed!
when: Saturday, February 1 at 8:45 pm
where: Teatro Verdi, via Ghibellina 99 (near piazza Santa Croce)
cost: €31 - €19  tickets at theater box office or telephone for info: 055 21 23 20
Hottest Ticket! Take an 'Inferno Tour'!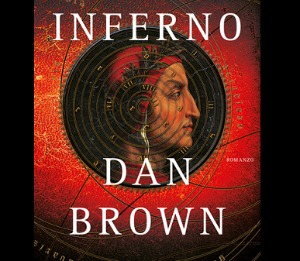 One of the hottest things to do in Florence in February is the ever popular 'Inferno' Tour.
Fans of Dan Brown's thriller will certainly want to go the same route as Robert Langdon did, while an expert fills you in on the significance of each stop along the way.
Based on Dante's Divine Comedy, the book takes place right here in Firenze and sees such historical monuments as the Boboli Gardens, the Vasari Corridor, Palazzo Vecchio, and the Baptistery as a backdrop to the drama.
Don't miss out on the chance to check out Vasari's famed painting with the infamous words 'cerca trova' (seek and you shall find) hidden in the (huge) canvas (will you be able to spot them?).
The tour lasts half-a-day, is a great adventure, and also gets you into Brunelleschi's Dome, Giotto's Bell Tower and other not-to-be-missed sights - all included!
Winter Park!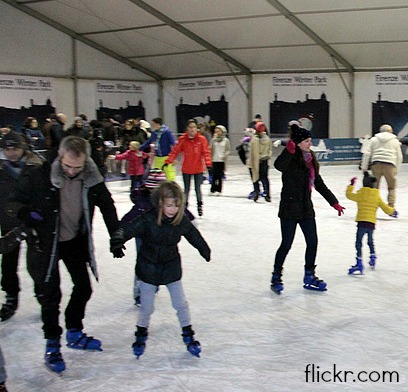 The Winter Park is perfect for people looking for things to do in Florence in February with children.
On the south side of town an ice-skating rink and ski runs are set up for the the winter season, with also snow boarding too.
This is also a great choice if you want something to do besides museums that's a bit 'off the beaten path'!
You can rent all the gear you need  (e.g. skates €2) and just concentrate on having fun!
opening times: Mon-Thur 3-10, Fri 3-Midnight, Sat & Sun 10 am - 10 pm 
where: OBI Hall, Lungarno Aldo Moro
when: opens on December 7 through to March
cost: entry between €6-10
Go to the Stadium!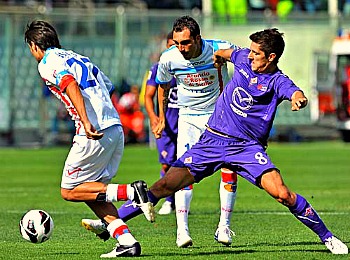 Soccer in the U.S., football in the U.K. but here in Italy it's just CALCIO, the country's national pastime!
If you're looking for things to do in Florence in February that are off the beaten path, this is the answer.
You just can't beat the local experience of watching a live soccer match while cheering on the Fiorentina team!
This month offers the following matches:
Fiorentina vs Atalanta, an Italian league match, on Sunday, 8 February at 3:00 pm
Fiorentina vs Turin, an Italian league match, Sunday, 22 February at 3:00 pm
where: Artemio Franchi stadium, viale Manfredo Fanti, 4 (bus 17)
tickets: can be purchased before match at box offices around stadium (from approx. €20)
Find out more about Florence...
If you like the content of this page, please share!  Click the button below.
back to Homepage from Things To Do in Florence in February