Things to Do in Florence in August 2015
What's On in Florence in Summer?  
Check Out the FWG Events Calendar for August!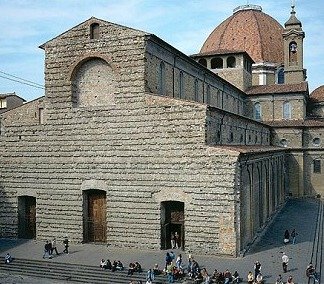 One of the local things to do in Florence in August 2015 is to celebrate the Feast of San Lorenzo.
The big holiday this month comes with a marching parade, free concert and outdoor food fest offered by the city, so don't miss out.
How do the Florentines chill out in the city as the temperatures rise?  By enjoying a refreshing drink at Cocktail Hour at one of the many open-air bars.  
Oh, and there's a beach too for cooling off in town.  A beach in Florence?? Yes!  It's called 'Easy Living on the Arno'...get a lounge chair and a beach umbrella and catch some rays!
Of course there's also opera nights and live concerts for you culture vultures, just because most Italians are on vacation, the performances do not stop in August!
Read about all this and more things to do in Florence in August below.
Classic Things To Do
The Feast of San Lorenzo in Florence
August 10th is San Lorenzo Day.
The festivities take place in and around the San Lorenzo church, Florence's oldest basilica and the former church of the Medici.
It starts at 10 a.m. with a marching procession of the Florentine Republic from the little square, Piazza di Parte Guelfa, and goes from Piazza Signoria towards the basilica.
At 11 a.m. take part in the service at the church in piazza San Lorenzo.
Then there's more celebrating at night!  
That's not all....at 9 pm the Florence Philharmonic orchestra perform classical music pieces at an open-air concert just outside the church.
After the music, have a late dinner ... get your free pasta and watermelon at the stands set up outside.  
Pasta is offered to the right of the church and watermelon in piazza del Mercato Centrale, the next square over.
One of the most traditional things to do in Florence in August so save the date!
Cocktail Cool Off
Any Florentines who are in town in the hot summer months will be joining in at one of the many Aperitif Hours.
This is a real local tradition and fun way to soak up an authentic Tuscan social event!
Wherever you walk around the city, from about 7 pm onwards (up to about 9,30) there are lots bars with outdoor patios serving cool drinks and a free buffet.
What better way to relax after a long day of sightseeing and shopping? This is one of the best things to do in Florence in August!
It can be just a pre-dinner drink before you head to a quaint trattoria, or - the buffets are usually so rich and varied - you can even make a dinner of it.
There's no lack of places to choose from downtown, so just spot a locale that suits your taste and go for it.
For some recommendations read about some of the special cocktail places in Florence.
Live Opera in Florence Churches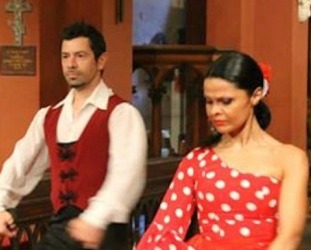 One of the classic things to do in Florence in August - or anytime of the year really - is to take in a live opera in one of the city's historic churches.
All Italian language favorites are performed - the most popular pieces that are sell-outs at any time of the year.
Puccini, Verdi, Rossini, and Mozart's Italian opera's ...a program to please any classical music connoisseur.
Not an opera expert? Don't worry!  
The narrator helps you along to follow the story and explain what's going on - you just have to marvel at the wonderful voices of these top-notch singers!
Performances are in the church or the open-air amphitheater in the garden of the historic Villa Strozzi.
See the full program for what's on in Florence in August
Concert at the Bardini Villa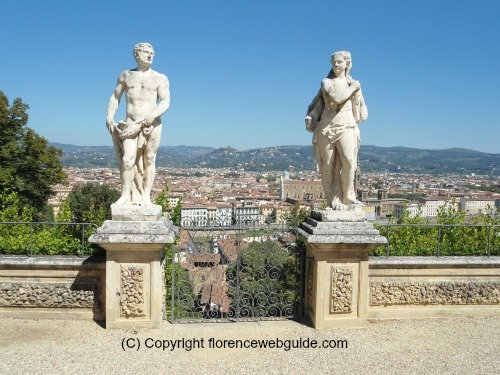 The Bardini villa and garden is one of Florence's nicest off-the-beaten-path locations.
The garden is more famous than the villa since it offers some of the loveliest views of the city and is usualy very uncrowded and peaceful.
A short walk from Forte Belvedere and the Boboli gardens, the Bardini villa is a perfect spot for an early evening concert and drink.
On Tuesday the 4 of August there will be a performance by "Dal solo al duo", playing guitar music.  Pieces by Torroba, Tarrega, Sor. Piazzolla, and Domeniconi.
when: Tuesday, August 4 at 6 pm

cost: 7€
where: Bardini villa in costa San Giorgio, 2
Booking is a must
phone 055 200 66 206
email: mg.geri@bardinipeyron.it
Madama Butterfly at Florence Opera House (and Barber of Seville)
One of the special things to do in Florence in August is to attend a performance at the city's new avantgarde opera house.
This month offers Puccini's Madama Butterfly, one of the most popular operas of all time.
The new state-of-the art venue is famous for its top notch acoustics and world renown performers.
when: Saturday 29 August at 8,30 pm

where: piazzale Vittorio Gui, 1 (near piazza Vittorio Veneto and Cascine park)
cost: starting around €15 
Also, another all time favorite - the Barber of Seville - will be performed on Monday August 31 at 8,30 pm, a modern and extremely original production not to be missed!
official site for more info and tickets
Ferragosto at San Salvi Park
Ferragosto is one of the biggest holidays of the year in Italy, most everything is closed!
The name literally means 'holiday' (ferie) 'in August' (agosto) and it always falls on August 15, going back to Roman times when the first emperor, Augusto, decided to establish a day off in the middle of the hottest month.
So what are the things to do in Florence in August on Ferragosto?
San Salvi park - which used to be a psychiatric ward but is now a cultural hub  - organizes a day in the cool woods of their grounds.
You can simply take a walk, go bike riding, have a drink or a meal, or - in the evening - take in some live Italian music and enjoy a cool slice of watermelon.
Riccardo Tesi & Banditaliana will be performing and there will also be a photographic exhibit showing the history of the park.
when: August 15 - open all day but evening events start from 6 pm
where: San Salvi park in via di San Salvi 12 (see directions - at the end of the page you will find directions in English - site)
phone: 055 6236195   email: info@chille.it
cost: concert €10
'Easy Living' - a Beach in Florence
Relax at the water's edge on the sandy side of the Arno river.
'Easy Living' is the name of the Florence beach that opens up for 3 months in summer, Mid-June to Mid-September.
Have a drink at the open-air café or while getting some sun on the beach and admire the loveliness of the Lungarno view of Firenze,
If you don't want to get sand on your clothes (but of course there are lounge chairs...), opt for the terrace just above the beach, in the shady piazza - the view's just as good!
where: in and below Piazza Poggi, south side of Arno near Torre San Niccolò.
time: from 10 am to 1,30 in the morning
Climb Up the Niccolò Tower
In summer the Torre San Niccolò opens its doors to visitors.
The tower was built in 1324 as a guard post to watch over the Oltrarno district of Medieval Florence.
Climb up and walk along the crenellated battlements at the top, offering lovely views of Florence and Lungarno.
Just under 200 steps to top. 
where: piazza Poggi
booking and info: 055 27 68 224 (but reserving is not obligatory)
cost: €4 includes guided visit of 30 minutes
when: from 5 to 8 pm (last tour at 7,30) - open for visits through to Sept. 30 
Drinks at a Rooftop Pool w/views of Florence!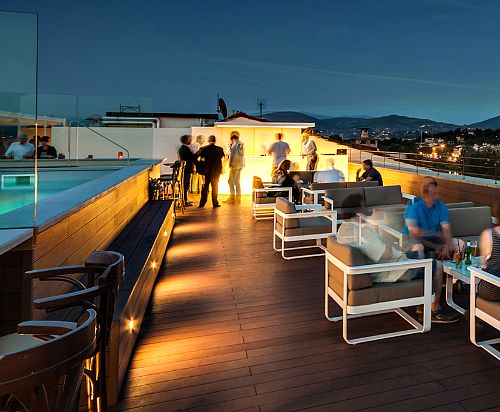 Why not have a cocktail before dinner at the poolside while looking out onto the marvels of Florence at sunset?
The newly opened rooftop pool and bar at the Plaza Hotel Lucchesi offers just that!
The bar is open every day but on Tuesdays and Thursdays you can enjoy live music with your drink during the aperitif hour (from 7 pm).
cost: €14 includes entry, drink and buffet on Tues & Thur
open: bar from 9 am to midnight everyday
where: Lungarno della Zecca Vecchia, 38
phone: 055 26236
email: lucchesi@toflorence.it
see official site for more info

Political Party (ie lots of food, drinks and fun!)
From August 21 until September 13 the Cascine park is host to the Festa Democratica.
This is one of the things to do in Florence in August  if you really really want to immerse yourself in the local lifestyle and atmosphere.
Literally translated, this is the Democratic Party.  
Basically, it is an outdoor summer event so that the political party can raise funds while everyone has lots of fun.
So what's it like?
First of all, you can eat well and spend little.  Go to the cashier, say what you want to order, pay, and then take a seat at any table.  
Your food gets brought over to you by one of the volunteers (everyone here works for the party, for free!)
Then, there are rides for the kids (this place is great for children!), live music or dj session, stalls and stands selling all sorts of items, and also pubs & bars.
Go over to the Festa Democratica for some authentic Florentine fun - one of the not to be missed things to do in Florence in August!
where: Piazza Vittorio Veneto (at the start of the Cascine park)
when: August 21 - September 13, opens at 7 pm everyday
Flea Market Downtown
One of the typical things to do in Florence in August for locals is to stroll around the downtown flea market in piazza dei Ciompi, in the heart of the city.
The stalls are open all month, but at the end of August the vendors double, triple or even quadruple as the stands open out onto the streets and sidewalks too.
The Ciompi market is a true antiques market, with a special emphasis on furniture and household items such as traditional lamp fixtures, old-fashioned stereos and similar goods.
when: Sunday 30 August, all day
where: piazza dei Ciompi
Florence Parks Offer Evening Fun!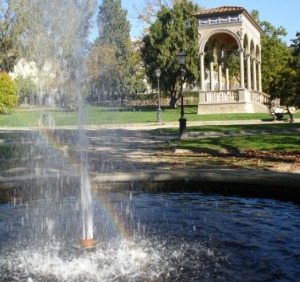 Do you want to go where you'll probably be the only non-local and enjoy a genuine Florentine summer evening?
Stay cool outside at one of the city's neighborhood parks or gardens, which are all set up to keep adults and kids entertained during the hot months.
Italians who haven't escaped the city heat love to spend the summer nights just hanging out in the open-air, having a drink with friends while the kids are free to run around in the fresh air.
Joining them is a great way to see a slice of authentic life in Firenze  and one of the truly local things to do in Florence in August!
Depending on the evening there could be an art exhibit, theater performance or live music, all free of charge and open to everyone.
Recommended gardens:
Giardino dell'Orticultura, via Vittorio Emanuele II (corner just off Piazza Libertà)
Parco dell'Anconella (along Arno, out of center), via Villamagna, 41 (bus no. 23)
Read On - Florence offers a lot more!
If you like the content of this page, please share!  Click the button below.
back to Florence Events by Month