Florentine Mosaics
Florentine mosaics are different from other types of mosaic work such as Byzantine or glass mosaics.
With Florence mosaics, the cut pieces of stone fit together with each other in such a way that you can't tell that the finished work is, in fact, made up of many little bits of semi-precious stone.
This perfect joining of the stone pieces is called 'commesso'.
With other mosaic styles the spaces between the tiles/pieces are quite obvious, indeed, are meant to be seen.
How is this done?
With painstaking work and enormous patience.
Each piece of stone - often minute in size - is carved, shaped, filed, measured, and re-filed until it meets perfectly with its connecting piece.
There are still a few workshops active today in Florence where this craft is carried out.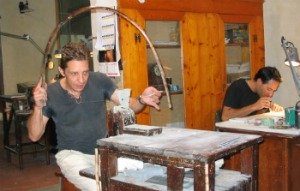 It's remarkable to see these artisans dedicating hours just to getting one piece of the 'puzzle' perfect. They slice, hone, file, shape and then try the stone piece in the whole of the picture - then slice, hone, file and shape some more....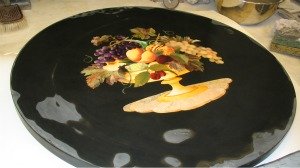 The colors are so bright and vibrant that I assumed that paint had been used as a last touch to 'jazz it up'. When I asked the craftsman he looked shocked by my question! No, just semi-precious stones, those are simply the true colors of the stones.
Below the artisans are proud of the end result of so many hours of detailed work:
See Mosaics Being Made
The best way to fully understand and appreciate this craft is to visit a workshop where you can see pieces being made.
One of Florence's most admired and long-standing mosaic artisans has his workshop at a convenient central location in via Ricasoli, very near to the Opificio museum ('the Workshop of Semi-Precious Stones'):
1) Scarpelli Mosaici, via Ricasoli, 59r
The artisans in the photos on this page work just in front of the Pitti Palace:

2) Pitti Mosaici, piazza Pitti, 23R

After seeing how Florentine mosaics are made and admiring the intricate workmanship, you might want to consider purchasing a piece of mosaic art for your own home. Workshops have a very large selection of mosaic pictures in all sizes to choose from.
If you like the content of this page, please share!  Click the button below.