Florence Leather School
See Master Artisans at Work 
Making Hand-Made Goods
 in a Renaissance Laboratory 
The Florence Leather School (la Scuola del Cuoio)
where: via San Giuseppe 5r (looking at the Santa Croce church, the entrance is on the street going along the left of the building)
phone: 055 24 45 34
opening times:  every day 10:00 – 6 pm (closed on Sundays from November to March)
The Leather School in Florence is an extraordinary place.
No visitor to Florence who is interested in artisan craftsmanship should miss out on the chance to visit this leather workshop of the highest quality.
The Scuola di Cuoio sells every type of leather good, all of their exclusive production.
To say that the quality is good is an understatement indeed – it simply doesn't get any better than this.
Every single item is hand made by the leather school's artisans who you can see working while you visit. 
The work tables and craftspeople are right there getting on with their creations right alongside of the display cabinets of goods being sold.
What Does the School Sell?
Bags are the school's 'forte' – and these are magnificent – but you can also buy jackets, wallets, belts and briefcases as well as small leather items like bookmarks, coin cases, key chains and so on.
The Scuola di Cuoio uses a vast selection of animal skins.  
Of course you'll find the traditional calfskin and lambskin as well as deerskin, which is extremely soft.  
But there are also beautiful items made of ostrich skin, alligator and crocodile, and spectacular ladies evening bags made of highly original skins such as lizard and python skin and even the skins of sea creatures!
The Florence Leather School is Italian creativity and artistry of the highest level.
The school also makes traditional leather goods in the classic Florentine style such as decorated jewelry boxes and gold engraved desk sets (one of these sat on the desk of President Eisenhower of the United States).
Some of the products are truly inspired such as Francesca Gori's line of jewel bags (pics above show Francesca working and the finished product).
These bags are made of ostrich skin, are hand sewn and then decorated with hand-stitched embroidery.
Then, the bags are embellished with unique and singular pieces of jewelry, beads or stones as a final touch.  
These bags require hours upon hours of individual work and are real works of art – each piece is completely unique and guaranteed one-of-a-kind.
The Story Behind the School
The Florence Leather School is located in a Franciscan monastery that goes back to 1294.  
(To get to the workshop and selling area you go through the cloisters and vaulted passageways of this Medieval building which makes all the modern hustle and bustle of Florence seem very far away…)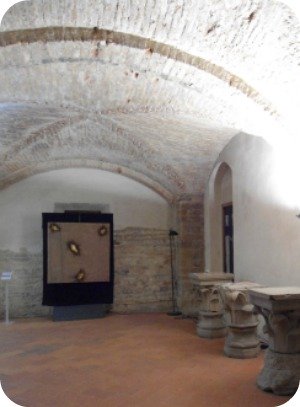 After World War II -  in 1950 - the Franciscan friars and a Florentine leather artisan, Marcello Gori (whose daughters and grandson now run the school) set up the Scuola del Cuoio.
Many children had been left as war orphans and the school's aim was to teach these children the professional craft of working leather so that they would be able to earn a living in the future.
Today the school has two main activities: the commercial side of making and selling leather goods, and the didactic side of teaching the leather working craft.
Courses are available for both aspiring leather workers as well as for visitors to Florence.
There are 3 hour or 6 hour workshops open to anybody who wants to try their hand at making a leather book cover, frame or pouch which you can then take home with you - how's that for a souvenir of Florence?  
Find out all about it on the Florence Leather School site.
What Are the Prices Like'
The Leather School has a very large range of goods and prices.
Outstanding quality and 100% hand designed and hand crafted items (using manual tools that go back to Renaissance times rather than modernized machinery)means higher-end prices.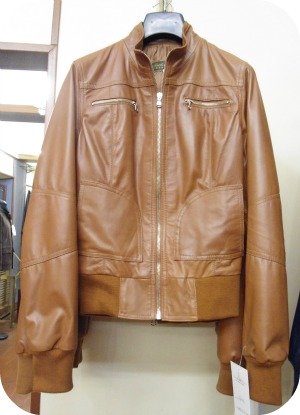 The goods are worth it though since the guarantee of authenticity that you are buying a 100% made in Italy (no, made in Florence!) product and the high quality mean that you'll be taking home a one-of-a-kind keepsake of your trip to Florence.
To give an idea of the range small items go for around €20, wallets about €50, bags start at €150, jackets start at €300.  
During January and July (sales period) there is 20% off.    
The school has a very large selection of high-end bags from €300 and up.
The Leather School initials items with gold gilding free of charge.
Maintaining Original Ideals at the Florence Leather School
The Scuola del Cuoio is also special in its commitment to be true to its original ideals.
Amidst today's globalized world and the tendency to have goods produced outside of Italy to save on labor costs, the Leather School has refused to abandon its original philosophy (a round of applause please!).
This means that: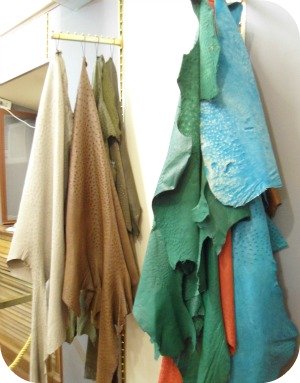 Production continues to be carried out in its Florence location

No mass production procedures have been set up,  but quality pieces are created individually 

There is no modernized factory but artisans using leather tools and manual equipment as was used in Renaissance times

There is no visible logo or brand name on any products since quality and superior workmanship speak for themselves
The Florence Leather School is a memorable experience that I highly recommend.
If you are a discerning admirer of excellent workmanship who appreciates a classic or original product created with meticulous attention to details and quality, and you would like to take home a genuine Florentine leather article go to the Scuola del Cuoio – you won't regret it!
related pages you might be interested in:
If you like the content of this page, please share!  Click the button below.
to FlorenceWebGuide Homepage from Florence Leather School